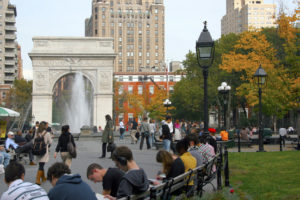 While La Nina's threat of harsh rain is expected to wreak havoc in the coming weeks, New York City is experiencing unusually high temperatures for the month of November. NYU students, routinely bundled up from head to toe by this time of year, are rejoicing.
All around campus, spirits are high, even as finals season quickly approaches; and Washington Square Park, generally a ghost town by the winter months, is still buzzing with life. Street performers, tourists, and students alike are taking advantage of the mild weather.
Owen Tynes, a native New Englander and NYU sophomore eats lunch on the park benches by the fountain every Tuesday. Thanks to the recent swell of warmth, he is still able to enjoy his turkey sandwich in the sunlight this late into the year.
"I have such a busy schedule I don't have time to go home and eat in between classes," Tynes said. "I look forward to chilling out in the fresh air for a few minutes every day. I'm happy I can still do that without freezing my butt off yet."
Like many students, Tynes is still expecting a cold winter to approach in the coming weeks. Senior Manas Malik, recently stocked up on Uniqlo jackets to prepare for what he thinks is going to be a chilly season.
"I'm from California, but I've been here four years and I've yet to have a warm winter," Malik said. "No way it's going to last, but hey I wouldn't complain if it does."
Around midtown, Junior Maria Goetz, indulged in a nightly run to relieve stress after pre-med classes. She thanked the consistent warm weather for keeping her in shape this year.
"This time last year I was huddled in my dorm room escaping the snow." Goetz said. "It's almost December and I'm still running up to Times Square and back every night. It's great!"
While still enjoying the September like weather, Environmental Studies student Tess Lancaster said the warmth served as a constant reminder of the rapidly changing climate.
"Over the past 10 years, what we've seen take place temperature and climate wise is something that should be taking place over 100 years," Lancaster said. "So there's no time for the eco-systems of earth to catch up. It's a scary thing."
Despite worrying statistics, Lancaster said climate change hasn't gotten to the point of being irreversible yet.
"A little sunshine isn't something to freak out about," Lancaster said. "I definitely like not having to wear a coat out every day."
Annual average temperatures have increased in all regions of the state as a result of climate change, which eventually, without drastic preventative measures, will have harmful overall effects. For many NYU students, however, a warmer New York City winter is a desirable occurrence.
"I'm just a happier person the warmer the weather," sophomore Stephanie Tjoa said. "Especially around finals season, a cloudy day really affects my mood. I'd take 60 and sunny year round."