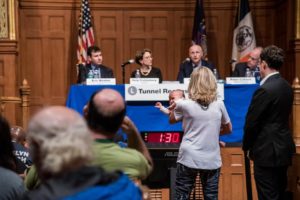 Starting in April 2019, local transit will be significantly disrupted when the L train shuts down for a 15-month renovation.
On Monday evening, local residents had the chance to air grievances with local officials at an East Village town hall.
The event took place at Middle Collegiate Church on Second Avenue. Notable attendees included Manhattan Borough President Gale Brewer, Brooklyn Borough President Eric Adams and New York City Transit President Andy Byford.
One local resident, Georgette Fleischer, attended the town hall with her 4-month-old daughter Augusta. The two live on Cleveland Place, along a planned route where extra city buses will run to serve commuters displaced from their usual subway routes.
"We are really mortified about the idea of having [up to 80] diesel-fueled buses an hour coming by where we live," Fleischer said. "I'm worried that she's going to get asthma."
According to Byford, the L Train carries 400,000 passengers every day; 225,000 of whom use the section of the line slated to close for renovations. Aside from the addition of new bus routes, alternatives for displaced riders will include a ferry between Williamsburg and 14th Street, improved bike lanes, changes to traffic patterns and permanent station improvements on nearby subway lines.
To accommodate increased bus traffic, the Williamsburg Bridge will implement three-person high-occupancy vehicle lanes to increase efficiency and reduce traffic, according to Department of Transportation Commissioner Polly Trottenberg.
"You will see a tremendous drop in single-passenger vehicles," Trottenberg said.
Many locals expressed concerns about vehicle emissions and asked officials to implement electric and hybrid buses during the shutdown. The MTA plans to incorporate five electric and 10 hybrids in April, and phase in more as the project progresses, according to department officials attending the town hall.
Fleischer was dissatisfied with the city's response to these emissions concerns.
"Chinatown Head Start, [a preschool in downtown Manhattan], is steps away from Kenmare Street, the bottleneck where these diesel-fueled buses are going,"  Fleischer said. "There's a senior center below that. In other words, children and the elderly are particularly vulnerable. They should be having all electric buses."
Officials took feedback from local residents. One resident, concerned with increased traffic in school zones on 15th Street, suggested the city plan an alternative bus route.
"That's really useful feedback," Byford said in response to the suggestion. "That's something we're going to take away and have a look at."
As part of the renovations, the L train will receive long-overdue upgrades, including signal and efficiency improvements. According to Byford, the line has been in need of renovations since Hurricane Sandy in 2012, when flooding significantly damaged the line's infrastructure.
To better safeguard for future natural disasters, the renovations will add new mechanisms that will allow entrances and air vents to shut in advance of a emergency.
"We've just got to rip the bandaid off and get it done," Byford said.