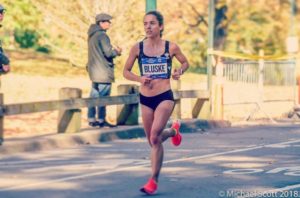 Samantha Bluske-Palmer pictured competing in the TCS New York City marathon this past Sunday morning. Photographed by Michael Scott.
After 12 weeks of running her hundreds of miles along dirt paths in her home of Tuscaloosa, Alabama, Samantha Bluske-Palmer was ready to strap on her Nike running shoes, apply her burgundy bareMinerals mantra lipstick and make her mark in the TCS New York City Marathon today.
The marathon was only the first of many steps on a long journey with the goal of competing in the Olympic trials in March 2020. "I am determined to pursue my dreams and chase after the Olympic team," said Bluske-Palmer.
That journey officially began when Bluske-Palmer, 27, quit her full-time job as the cross country and track team coach at the University of Toledo in Ohio and moved with her husband to University of Alabama at Tuscaloosa, where he became the school's distance coach. To become a professional runner and qualify for the Olympics, she started with training for the New York City marathon which drew more than 50,000 participants.   
"I can push my boundaries and see how far it can take me," she said. "I am considered an underdog in the elite field so I am in a position where I can surprise a lot of people."
Her running journey began in sixth grade when her father was training for a physical agility test (PAT) and she joined him on his run one summer afternoon. It shocked her that she had the ability to keep up for two miles. Bluske-Palmer's running career officially started in high school, where her only choice was to either play volleyball, a sport she wasn't very fond of, or cross country, which she knew she could do.
She soon excelled at Iowa State University. She helped the school win three  consecutive Big 12 titles, two Midwest Regional titles and placed in the top 15 at the NCAA Cross Country Championships. Individually, she won the Big 12 Indoor Championship in the 5k, was a 9x All-Big 12 in Cross Country and Track, and was honored to be a team captain.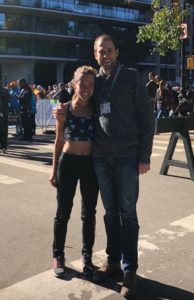 Samantha Bluske-Palmer (left) pictured with husband, Will Palmer (right), after completing the TCS New York City Marathon.
"Running is a constant rollercoaster and it has taught me some of the most valuable lessons that has shaped me into the young woman I am today," said Bluske-Palmer. "I started telling myself three things in college during hard workouts and it has carried on with me ever since. 'I'm strong, I'm confident, I'm fit.'"
Now at University of Alabama at Tuscaloosa, she volunteers as a Cross Country and Track coach. With the help of her three-year-long running coach, Tony Houchin, she took on the challenge of running 115 miles a week to train for the marathon.
"The scary thing about the marathon is that I dedicated 12 weeks of my life to train really hard for one race," said Bluske-Palmer. "I've had a lot of lonely and humid miles on my own where I am battling my own demons in my head that will help me on race day."
And on that race day, with a mani-pedi done to honor her "look good, feel good, run good" motivator, Bluske-Palmer finished with a time of 2:34:04, finishing as the 8th American and 15th place overall.
"I was on the verge of tears going over the first bridge in Staten Island and then I could not stop smiling on First Avenue," said Bluske-Palmer. "The atmosphere and crowds was something I've never experienced in my entire life. It was hands down unbelievable."
Bluske-Palmer has no plans to run another marathon in 2019, however, she is keeping her options open to the possibilities. For now, she'll continue running her route in Tuscaloosa and dream of one day running as a member of Team USA.