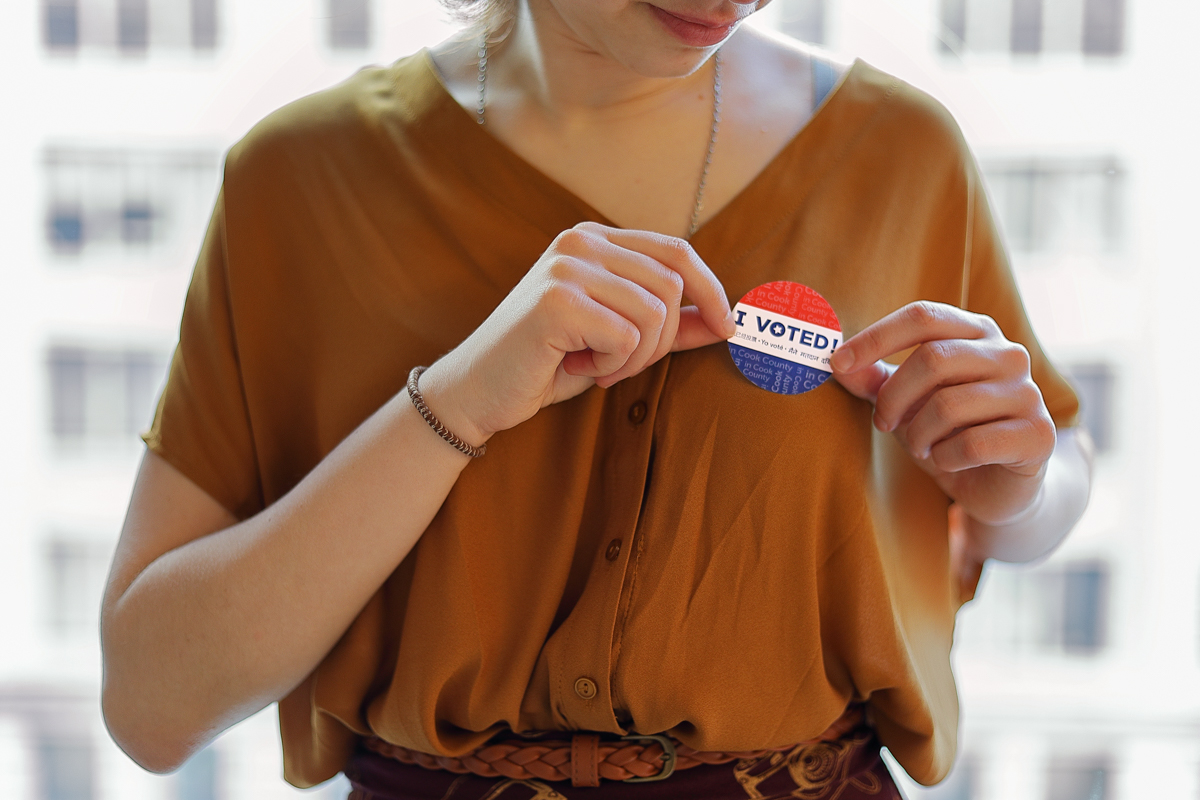 Three weeks from the midterm elections and NYU senior Toyosi Oyelola was still carrying her voter absentee form in her backpack. Her Application for Ballot by Mail (ABBM) to vote in Texas elections was just missing a stamp.
"I don't know how much stamps cost but why do I have to pay to vote?" the Austin-native asked while holding a white envelope addressed to the Texas Early Voting Clerk. "It's my legal right."
Oyelola, who voted for the first time in the 2016 Presidential Elections, is among the young Americans that will be voting by mail in the incoming weeks from different states, and even from different countries –many of whom don't know where to find stamps for their ballots because they have never used one before. As a part of Gen Z, a politically-aware generation born after 1996, Oyelola believes it is critical to vote no matter where she is living. "It was very important to me to make sure that we can have a better future for Texas because Ted Cruz is not it," said Oyelola, who follows the close race between Cruz and O'Rourke and worries about the US-Mexico border policies.
Last year, NYU sophomore Sarah Patt had to go to her hometown Village Hall in Glenview, Illinois because her online voter registration form failed. As with Oyelola, Patt is frustrated with the process of printing an ABBM form, mailing it in and then getting back a ballot that also needs to be mailed to her county's clerk office. "I get why they want to protect the voters identities' through this process but it's a lot of work for something that it's a fundamental part of the American experience," said the first-time voter who is against a possible re-election to a third term for Illinois' Gov. Bruce Rauner.
For some NYU students, studying halfway around the world may impede but not deter them from voting. First-year student Kai Elwood-Dieu will mail his ballot from the NYU campus in Shanghai. Native from Bethesda, MD, Elwood-Dieu says that studying in China will not stop him from showing his support to the Democratic party. Elwood-Dieu even wanted the NYU Shanghai student government to set up a voter registration booth. However, he was told that some NYU officials were concerned that doing so would show an American bias at a college where half of the student body is Chinese and the other half comes from 69 countries.
In response, Elwood-Dieu and his classmate Anna Gabriel set up their own registration area: a table, two chairs and two computers outside of the cafeteria in the basement. In the two days of the temporary booth, 50 students registered. "I, in no way, want to force people to vote, but for those willing, I wanted to provide a resource with which to do so," wrote Elwood-Dieu in an email interview.
Absentee ballot voting started as a way to allow Civil War soldiers to vote for their representatives from the frontline and has now become a practice accepted in all the country. Advocates for voting by mail argue that it increases voter turnout and reduces the administrative costs of having polling sites. However, the requirements and deadlines to do so vary between states making it hard for Americans to understand how the process works.
Patt mailed her ABBM form but five days from the midterm elections, she hasn't received her Illinois' ballot yet. The only document she got recently was California's official voter information guide, which she considers was a mistake because she has no ties with that state. "I took all the right steps to get my ballot, so I hope that our voting and mailing system work properly and allow me to vote."