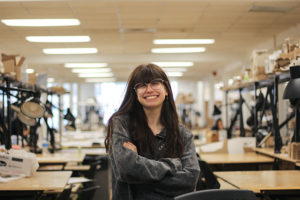 As the fall school semester comes to an end once again, frantic high school seniors are submitting college applications, crossing their fingers, and dreaming of getting in to their dream schools. What they don't know is that come next year, they might be going through the same stressful process all over again as transfer students.
In a 2015 study of the 3.6 million first-time students who entered college in the fall of 2008, over a third transferred to a different institution at least once in the next six years, most (50.7 percent) within the first two years. In a New York Times article from earlier this year, executive director Janet Marling of the National Institute for the Study of Transfer Students at the University of North Georgia, said that transfer students are receiving the most positive attention from higher education than ever before.
Gianna Robertson, an Interior Architecture major at The New School, was one of those students.
Working on her final project on one of the various paint-stained work tables at the studio on East 13th Street, Robertson recalled the disillusionment she felt while pursuing acting and singing after graduating from high school and moving to California.
"In that moment in LA, I was just like, I really don't think I should do this with my life and I have to change something," said Robertson. "I have to do something that means something."
She decided to move back to her home state of Pennsylvania to attend community college, where she would take art classes, get her GPA up, and then transfer to a four-year institution.
According to a recent article from NPR, transfer students are an established pool for universities to recruit more diverse students, especially students from community colleges.
Going to community college, I was happy about it because I was happy to get something started," said Robertson. "I know that I'm doing this so I can be where I want to be."
Like Robertson, almost a quarter of all students who started at a community college transferred to a four-year institution within six years.
"I wish somebody had told me [in high school], 'don't feel judged about going to community college first and then figuring it out.'"
Robertson said she wouldn't change anything about her past, and is glad for the experiences she gained in order to get her to where she is now.
"It doesn't matter how old you are. It matters what you're doing right now," said Robertson.
Transferring can be a second chance in the competitive world of college admissions. While some schools transfer acceptance rates are much lower than regular admission, others are favorable to transfer students. Vanderbilt's freshman admission rate in the 2016 – 2017 school year was 10.9 percent, but the rate for transfers was almost 30 percent.
Currie Larrimer is a sophomore at Vanderbilt University, but she attended Southwestern University in Texas for her freshman year  
"I wanted to go to Vanderbilt originally, but I didn't get in out of high school," said Larrimer. "But, I really wanted to go straight to college even if it wasn't the place I wanted to go."
Larrimer attended the Liberal Arts and Science Academy (LASA), a magnet high school in Austin, Texas. Ranked at #16 in the nation for Best High Schools and #5 in Texas by US News, she said the competitive environment contributed to the pressure she felt her senior year.
"I didn't really ever think about transferring," said Larrimer. "When I was first getting into colleges and I wasn't really getting into anywhere that I wanted to go…I was very reluctant to [transfer] because I was like, people will think I'm stupid."
Students who don't receive that coveted acceptance letter from their first or even second choices can feel like there are no other options for them.
"When I didn't get into Vanderbilt the first time I literally skipped class for three days because I was so upset," said Larrimer. "I was like, 'oh, I literally don't know what I'm going to do. I don't have anywhere to go.' But then it all worked out fine."
This fall, Princeton University reinstated it's transfer program, admitting the first class of transfer students since 1990. This move, and other colleges increasing openness to transfer students, was reportedly motivated by the desire for students with more diverse backgrounds. This means lower-income families, students from community colleges, and students with military backgrounds.
Larrimer's college decision process was also limited financially.
"One of the reasons I had to go to Southwestern the first year was because that was the only school that my family could afford out of the three schools I got into," said Larrimer.
Vanderbilt meets 100 percent of need-based financial aid for transfers, so now Larrimer is able to go to her dream school and afford it.
Transferring can bring hope and opportunities for students who otherwise wouldn't have them.
"It was comforting because I knew that I had a way out," said Larrimer. "I really just had to make it through that year and then I'd be going somewhere else that was hopefully better for me."
Larrimer said while both times the college application process was stressful, confusing, and seemingly nonsensical in decision making, she's glad she took advantage of applying as a transfer.
"This whole system is kind of messed up," said Larrimer. "So you can't let it convince you that you're not worth going there, or that you're not worth their education. If you know what you want to do and you work hard for it you'll get where you want to be eventually."