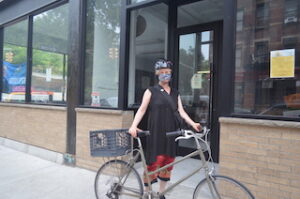 After months of stay-at-home orders, the much-awaited process of reopening has begun, and many world leaders hope to see their citizens don not only masks, but also bike helmets when they emerge back out on the streets.
On May 6, Boris Johnson told Parliament that he hoped to see a  "golden age of cycling" in the months and years to come, and the British Department of Transportation allocated £2 billion to create popup walking and cycling roadways to promote safe, socially-distant intra-city travel. The French government is promising 50 euros for each of its citizens to use toward bike maintenance in preparation for the lifting of lockdown orders on May 11. Scotland is also putting £10 million toward popup cycleways.
In recent months, many New Yorkers have chosen to saddle-up as their once trusty — though perhaps not beloved — form of transportation has become a far more formidable foe.
"Today if you go into a subway car, it seems like nobody wants to be there," said Juan Restrepo, the Queens Organizer for Transportation Alternatives, an advocacy group which focuses on creating more road space for pedestrians and cyclists. "More people want to take an active transportation mode because they feel they can control their exposure to COVID."
Citi Bike saw a 70 percent increase in ridership in March and bike shops, deemed essential businesses, have kept busy. But far denser than many of its international urban sisters, safely accommodating an influx of bikers in post-COVID New York may be a less smooth ride.
Paul Cohen, 24, who works in construction estimation, has been utilizing Citi Bike nearly every day to get to work since March. With fewer cars on the road, he has seized an opportunity to test his chops as a cyclist on streets he had previously deemed too dangerous.
Although Cohen proudly considers himself a Citi Bike convert, he wonders if the risks may be enough to deter other riders.
"Admittedly I'm a bit of a reckless biker, but I've been in two head-on collisions with other bikes," he said. "One was my fault and the other wasn't. I also have two friends that have been hit by cars."
For Joseph Nocella, owner of 718 Cyclery in Brooklyn, business has been booming since social distancing orders were put in place. And while he is encouraged by the huge influx of customers hoping to repair old bikes or break into the world of cycling for the first time, he is concerned by the other trends he has seen out on the street.
"We want people to ride safely, but right now there are fewer cars on the road, so it's kind of like the Wild West," he said.
A self proclaimed "safety nerd," Nocella always advises his customers to ride predictably by using hand signals and stopping at red lights — a rule he feels is too often ignored by cyclists. Above all else, he encourages new and veteran riders to wear helmets.
"They are not legally mandated in the city, and I feel that's a grave situation," he said.
Fewer cars on the road has meant a decrease in cyclist fatalities in 2020 — three so far compared with 22 in 2019. But fewer cars has also meant slackening compliance with speed laws and, according to a press release from Transportation Alternatives, speed camera violations have increased nearly 83 percent since social distancing orders were put in place.
Emptier streets may offer a cushion between speeding drivers and careless bikers for now, but as more New Yorkers return to the streets after months in isolation — and many on two wheels — a multifaceted approach may be necessary to guarantee the safety of everyone on the road.
Many cities have begun closing off certain streets to motor vehicle traffic to offer more outdoor space for pedestrians and cyclists to move around with ease. Mayor Bill de Blasio has indicated that up to 100 miles of New York City streets will be closed off to reduce the pressure on cyclists and pedestrians to compete for road space as the weather gets warmer.
"Bicycle mobility is a good thing to be promoting," said John Falcocchio, a professor of transportation engineering and planning at NYU Tandon School of Engineering, "But in order to do that you have to be conscious of basic environmental conditions."
In Falcocchio's view, incorporating more open streets into New York's existing network of bike paths could be a much needed relief for cyclists who currently spend most of their rides within inches of rear-view mirrors. And while he would also like to see additional miles of protected bike lanes built, he admits that coveted public road space can be difficult to repurpose.
"When you think about bicycle mobility in an urban environment you need to think about safety but also about being conscious of merchants who utilize curb space to move goods in and out of the store" he said.
Transportation Alternative's Juan Restrepo believes that a wider network of protected bike lanes is crucial to empowering new riders. But in the past, the advocacy group's efforts to win more green paint and protective barriers on city streets have been met with resistance from lawmakers. 
"Street safety improvements are controversial in New York City," said Restrepo. "Oftentimes the political will to do something to make a street safer isn't there until something really bad happens. You can point out data but they need to see the headline and the family that's been destroyed."
Infrastructure aside, some experts feel the biggest responsibility in creating a safe bike environment in New York rests on the shoulders of riders, and may require everyone to think a little more about the safety of others when they step foot on a pedal.
"In my opinion, the city has not emphasized the importance of safety on bikes," Falcocchio said. "The safety of bikers depends not only on creating safe bike routes but also creating an awareness on the part of the bicyclist that they also have a responsibility."
In 2012, then Harlem-resident Judi Desire sold her car and bought a bicycle which she has since ridden to work, to the grocery store, through TSA — the list goes on. In 2017 she founded Uptown & Boogie, an advocacy group which seeks to improve bike accessibility and foster a community of riders in Upper Manhattan and the Bronx. Proper bike education is a key cornerstone to her mission.
"People just want to jump on but do they know how to hand signal? Do they know how to repair their bike? When I'm on busy roads I try to create an echo," Desire said. "I use hand signals and say 'on your left, on your right' and I'll see people ahead of me start to do the same thing."
Desire believes that in the past, upper Manhattan and the Bronx have been neglected by efforts to expand Citi Bike and cycle routes, which often center around wealthier parts of the city. She is encouraged by the recent opening of new Citi Bike stations uptown but believes that more can be done to ensure that efforts to improve bike networks give equal weight to the needs of all New Yorkers.
"We're lucky to have a greenway in Manhattan but that's not the case in a lot of the other boroughs," she said.
The fate of New York City transportation in a world after COVID has yet to be seen, but if the past few months are any indication, it may be safe to assume that the trusty bicycle will enjoy a moment in the spotlight. But for New York to join the ranks of other bike-friendly cities around the world, bikers and drivers alike may need to do a bit of extra homework.
"We need to get the message in both hands," Desire said. "Bikers need to be educated on what it's like to be a driver and drivers need to know what it's like to be a biker. We talk a lot about 'herd-immunity,' but we need 'herd-education' on road safety."