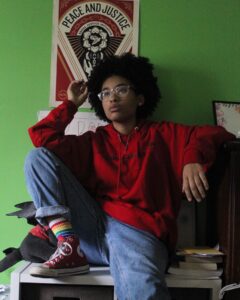 What is Blackness: Who owns it? 
Cassi Quayson,19, a Ghanian-American writer studying "Language and Liberation" at NYU's Gallatin School of Individualized Study muses on these questions. 
She's often caught up with innermost examinations of Black life while the rest of the world watches. In 2020's cataclysm of the coronavirus pandemic and pervasive racial injustice, it's been hard to keep going.
"I'm feeling a bit suspended in place," Quayson said. "There are moments of hopefulness and pleasant distraction, but that constant pull of 'bad things are happening right now and all the time,' just takes me back to square one again. Frozen and frustrated."
Facing the reality of incessant bad news, Morgan Wilson, a biracial 19-year-old and childhood education major at NYU's Steinhardt School, feels a torrent of emotions that forced her to distance herself.
"Everything I saw and everywhere I went I was reminded that Black-Americans are treated unequally in this country," Wilson said. "Opening social media was exhausting. I had to limit my time on those platforms to maintain my mental health and not get overtaken by the darkness of the situation."
The formal "Black Lives Matter" movement on social media started in 2013, yet it seems like the year 2020 has brought national attention to racism in a way that feels new. 
"It's not just about black lives anymore," Quayson said. "The coronavirus pandemic, ever-present climate change related events, violence against other marginalized identities, has exposed a lot of issues with our society. Now, the movement is not just anti-racist, but anti-homophobic, anti-sexist, anti-fascist."
Participation on social media platforms has been dominated by Generation Z, who has led the transition into wide-scale online activism and built online platforms for masses to unite on major issues. The movement is palatable now. People of all ages can use the hashtag "Black Lives Matter" and join the fight for equality that Black-Americans have sought for centuries long–all from a screen.
"I think there's this misconception that social media isn't real," Quayson said. "But it is. We're all on it. It exists. So it's real. Activism is activism. I don't care where it's getting done, just that it's, you know, actually getting done."
Social media has allowed those who aren't Black an inside look at the struggles Black people may face. Many white people are confronting their privilege for the first time and Black people are often revered as anti-racist oracles in the process. 
"I've felt the pressure to offer myself and the vulnerable parts of me because it's for a good cause," said Jaylen Evans, a biracial 19-year-old-student at Rutgers University New-Brunswick campus. "It reminds me of the role that black women have played in the United States in being maids, mammies and caretakers. They are a reassuring and guiding presence, always giving to people who only ever take."
Evans said she lives with the uncomfortable every day.
"I don't deserve to feel uncomfortable driving at night in the town I've lived in my whole life," Evans said. "It's the place I should feel at home and safe in, but I don't and some days it's exhausting."