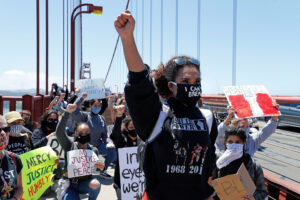 Young, Black women voters in America are not convinced that Kamala Harris will save them.
While the California senator's historic nomination as the first Black woman to serve as the Democratic vice presidential nominee came as a welcomed "shock" to some, not all have fully embraced her candidacy, pointing to her past record as district attorney in San Francisco as antithetical to the national protests and calls for racial justice following the deaths of George Floyd, Ahmaud Arbery and Breonna Taylor this summer.
18-year-old activist Tiana Day, who led a Black Lives Matter protest on the Golden Gate Bridge this summer, initially embraced Harris's nomination. She said she never imagined that an Oakland native, who "came from nothing" could be No. 2 on the Democratic presidential ticket.
"It was exciting. I've never really been represented. This is a huge step for our history," Day said.
But Day, who only this year became engaged in politics, is already cynical about the nature of Harris's career alluding to her time and past record as the state's District Attorney.
"No other Black woman has been able to get to the pedestal that she's at right now, and it's because a lot of people aren't willing to step on their own people," she said.
Harris, who once labeled herself as "top cop," has a record as prosecutor in San Francisco and Attorney General of California that runs in opposition to more recent calls for criminal justice reforms such as calls to defund the police and abolish prisons.
She has also been criticized for her anti-truancy program, which made it possible to prosecute parents whose kids skipped school.
And as an Attorney General, her office fought to keep nonviolent offenders in overcrowded California prisons that the Supreme Court found to be unconstitutional cruel and unusual punishment.
"I feel like that's just pretty contradictory for her trying to support Black Lives Matter but then having this past of being that person that was putting these people in the prison industrial complex," said Kai Byron, a 21-year-old senior at New York University studying psychology.
Harris's campaign has not returned a request for comment on this issue; the story will be updated accordingly.
Her nomination in August by former Vice President Joseph Biden and the Democratic presidential nominee came after a summer of nationwide Black Lives Matter protests. "It just felt untimely," said 20-year-old Storm Brookhard, a third-year photography student at the University of Southern California. Brookland said she felt that Harris's candidacy was incongruent with the more complex discourse around systemic racism happening in the U.S.
What's more, she believed that the decision by Biden to put a Black woman on the ticket was a "strategic move" to win voters. "I don't think that was out of personal desire or wanting to emotionally connect with who was on the ticket with me," Brookhard said. 
Tulane University political science professor Mirya Holman, who researches women in politics, says that strategy is linked to voter turnout.
"The Democratic Party and Biden are aware that it's a much better bet to put your money on an older Black woman voter than a younger Black woman voter," said Holman. "You're trying to pick a candidate that you think is [going to encourage] your reliable base to be excited about the party and turnout, so to some extent, it's like, 'Why do we care about young black women if they're not gonna turnout and vote?'"
There is some agreement that Harris will be able to draw in a larger base of voters with her name on the ticket.
"She's this symbol of this more refined Black woman, and I think she's really palatable to people that aren't the most writ liberal, that aren't the most contemplative of the way that the system is disproportionately affecting people," said Brookhard.
Day also says she is aware of why Harris could be appealing, especially to white voters.
"The Black community needs a strong leader that's going to be radical enough to fight for them and she's very watered-down, [but] her message has to be very watered down because she needs the approval of white people," she said.
Overall, Black voters appear to favor the Biden-Harris campaign. Recent polling by the Democracy Funding shows 83% of likely Black voters in favor of Biden. However, Harris' selection didn't significantly change Biden's favorability among Black voters, according to Nationscape polling taken between August 27 and September 9. 
Harris's record on criminal justice appears to be controversial for younger voters, while simultaneously pulling mainstream Democratic voters in.
That same poll showed much higher support among Black men (76%) for Biden in comparison to Black women (87%). But when it comes to voters — those between the ages of 25 to 34 — her favorability stands at 28% compared to older Black Americans over the age of 65 at 77%. 
For white voters, Harris' career as a prosecutor appears to temper any concern of Harris being too radical, according to Holman. They might think, she says, "'Well, she can't be too liberal if she was a prosecutor, if she was locking people up.'" 
And while young Black women may not find much hope in the current Democratic ticket, they do in themselves and in their generation.
"I lean on the edge of cynical," said Brookhard. "But I also do think that this past year, just all in all, we really did see specifically see our generation step out in a really profound way."