College students across Pennsylvania are anxiously awaiting the results of the 2020 Presidential Election to filter in this evening and in the days ahead, as polls close and votes are counted.
During most election years in recent history, the state of Pennsylvania has been thrust into the spotlight as a battleground state that former Presidential candidate Hillary Clinton lost to President Donald Trump in 2016 by a narrow margin.
The election of 2020 is no different. Both former Vice President Joe Biden, the Democratic nominee, and Trump have been visiting a variety of regions in Pennsylvania repeatedly throughout their campaigns and as recently as this past week. Both candidates made an appearance: Biden held a rally in Bucks County last Saturday and Trump visited the Lehigh Valley last Monday.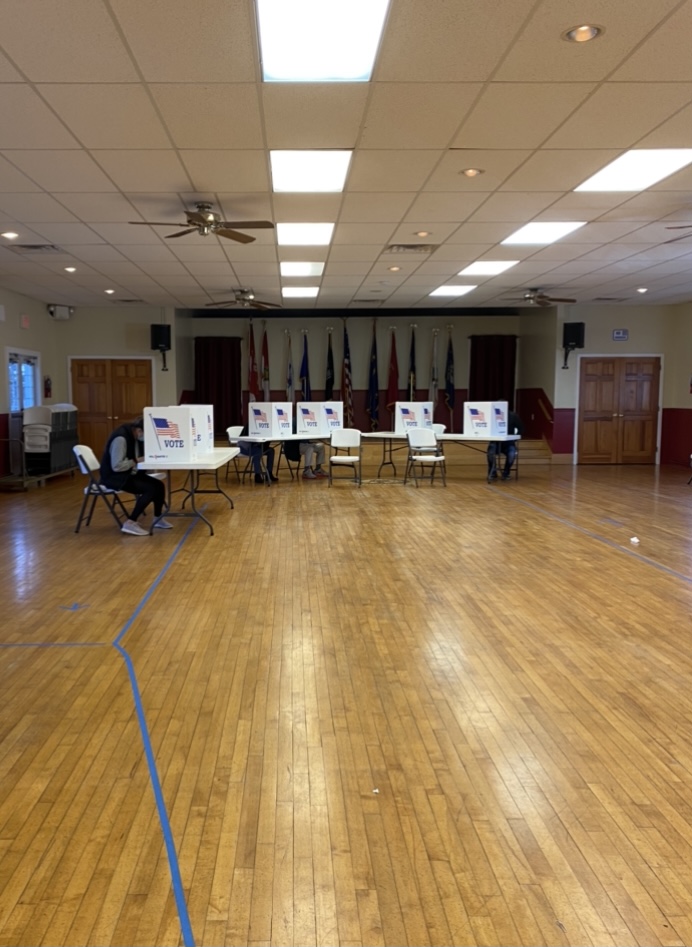 But for many younger Pennsylvania residents, who are voting for the first time in this election, they are fearful about the potential outcome.
First-time voter Emily Clark, a second-year student at Bucks County Community College who will be transferring to Temple University next semester, voted at the polls on Tuesday morning and is concerned that chaos might ensue in the coming days.
"I'm very worried about the outcome of the election," Clark said. "I feel like people don't realize what they're actually voting for, and they just follow social media and things that they see."
As of Nov. 2, poll analysis website FiveThirtyEight showed Biden forecast to win the state of Pennsylvania, up by 4.7 points. However, this data could be misleading considering that Clinton was favored to win Pennsylvania by a margin of 6.4 points just a week before the 2016 election and then lost. Trump ended up winning the state, earning himself an extra 20 electoral votes and, ultimately, the presidency.
That's why the turnout of young voters is expected to be an all-time high this year as they seek to make an impact in their swing state.
Meghan Hayes-Fischer, a sophomore at the University of South Carolina who voted by mail as a Pennsylvania resident, says she knows her vote is important. As a result, she is worried about whether or not her vote will actually be counted, given that her absentee ballot only arrived at her South Carolina address several days ago.
"I wish I was in Pennsylvania so I could vote at the polls, because it kind of felt like I didn't even vote at all," Hayes-Fischer said. "I had such an issue receiving my own ballot that I'm scared they won't even receive my ballot back from me. So I don't really feel good about it until I get that notification on my mail-in ballot saying, 'It's been received,' which I haven't gotten yet."
Both parties view Pennsylvania as the key state most likely to decide the presidency this year. And many Pennsylvania voters are aware of this fact. Voter turnout is expected to increase by at least 3% from 2016. There has been an uptick in voter participation across the state as its importance continues to arise with every new election cycle. The 2016 election drove 70.11% of registered voters to turn out to vote, an increase of 3% from the 2012 race between Obama and Romney.
Adding to the uncertainty, many counties across Pennsylvania will be counting ballots differently from one another.
According to Pennsylvania law, counties cannot begin counting absentee and mail-in ballots until 7 a.m. on Election Day, which is why Democrat-run counties such as Bucks are pushing to begin counting their early ballots as soon as the clock strikes 7. Traditionally, Republican counties such as Erie plan to count their in-person ballots first. 
This vote count strategy has contributed to a situation that many Americans are predicting and dreading: the country will most likely not have a winner on Election night. 
If other counties across Pennsylvania and the country follow the same course of action as Erie County, whose election officials plan to count absentee ballots from 11pm to 2am and resume the following morning, this unfortunate circumstance might become a reality.
It's left Americans across the country feeling in suspense and first-time voters in Pennsylvania unsure of what to expect.
Nicole McNamara, a second-year student at Temple University studying art education, voted at the polls this morning and will be watching the results trickle in this evening.
"I'm excited to see what happens," McNamara said. "But I'm also very anxious to see people go absolutely crazy."