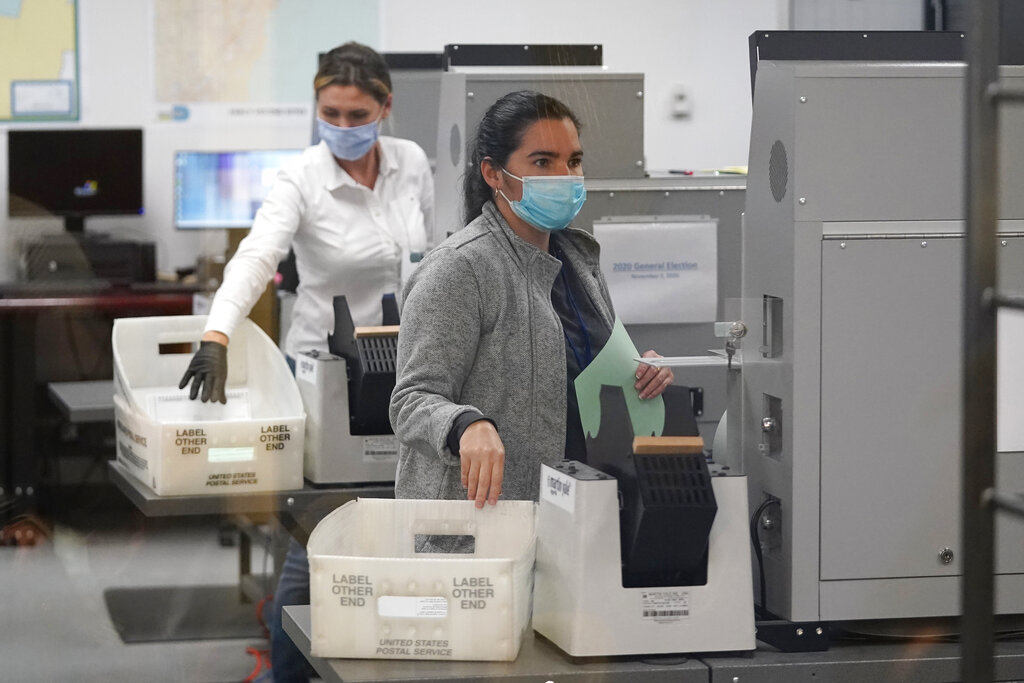 First-time voters in Florida are bracing themselves that they may not know the results of the Presidential Election in the days, and maybe even weeks, to come. 
This uncertainty is not a new feeling for Floridians in this election cycle, who reside in a critical battleground state. They have worried about everything from whether mail-in ballots would be delivered to polling stations being changed without warning. 
But it's left college-aged voters feeling like they have been living in limbo over the past few months, culminating in an all-but-secure feeling on Election Day.
"Especially because of everything that has happened in the past few months, I think that it seems like the stakes are a lot higher," says Irianna Castillo, a third-year student at the University of Southern Florida. "Because we've already seen what four years of [Trump] as President is like, it's scarier to think about four more."
Castillo lives and voted in Sarasota County, Florida, a county which consists mainly of affluent white retirees. The demographic is nothing new to Castillo, and neither is the stress that comes with Florida's historically slightly Red politics. There are close calls during nearly every election, with Republicans winning by a very slim margin nearly every time. 
On the morning of the election, the majority of ballots that had been mailed in were by Democrats, making up 45.3% of the more than 4.7 million ballots received. Republicans' share was less at 31.1%. 
But the inverse was true when it came to early voting with Republicans making up 45.2% of about 4.3 million ballots counted in Florida, while Democrats came in at 32.3% with over half a million ballots less.
Castillo says that she was initially going to mail in her ballot, but became skeptical of it because of reports of inconsistencies in delivery time. She decided going to vote early in person was the better option.  
One of the poll workers she spoke to told her that they'd never seen as many early voters lined up as they did this election cycle or this many people dropping off their ballots.
"I thought people on the left were more likely to vote early and to vote by mail, but also when I went I was the only person under the age of like, 50, at the polling location, so I just don't know," says Castillo.
Castillo is not the only one who doesn't know how to make sense of everything she's hearing especially with the stronger presence of Trump voters. 
"There's been more support for Trump in the last few weeks than I've ever seen," says Whitney Milton, a 20-year-old who lives and voted in neighboring Manatee County.  She said she's driven past Trump rallies and gatherings taking place on main roads on a regular basis — almost every day. 
But for others voting this time around, it didn't feel as exciting as just a few months earlier. Instead, Milton, who voted for Sen. Bernie Sanders in the primaries described feeling "bad" after voting on Tuesday.  
"I was definitely less excited than when I had voted in the primaries, I felt great that day," says Erin French, who had also voted for the progressive senator from Vermont in the Florida primaries back in March. She says that she definitely felt disappointed this time around, voting for a less than ideal candidate, but "was doing what [she] had to do for sure." 
While Trump rallies have been a regular occurrence, there has been a lot of support for Biden, with the emergence of groups such as Republicans for Biden.
"Just last week, Amy Klobuchar came to my job, and she had a little Biden event there and there were probably less than a hundred people," says Castillo, referring to the Minnesota senator and former Democratic presidential candidate. "And then the same week, Ivanka was here, she had an event, and I think that there was, like, 3,000 plus people at her event? So it's hard to tell," says Castillo referring to the president's daughter and advisor.
But now with votes cast, these three Floridians say they had been avoiding looking at the news all day. All that is left to do is wait.
"That's something that definitely heightens the anxiety," says French. "We're not getting an answer tonight, and we might not tomorrow either, and who knows if we will for a good long while honestly."