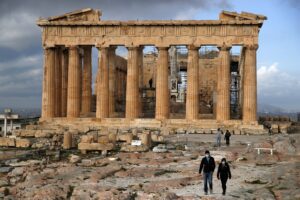 Since the World Health Organization declared Covid-19 a pandemic a year ago, the $29 billion travel industry has  dramatically altered how people move across cities and states due to new health regulations.
Travelers today are prioritizing safety as a top consideration when evaluating their vacation plans.
For the majority of Americans pre-pandemic, public health was not even on their radar when selecting their next destination. But consumers' appetite for risk have only been heightened with the nearly 30 million global cases of Covid-19. 
"Now, people really think about safety first, and that's a big, huge, change in the mentality of most travelers," said Edward Salvato, an adjunct instructor at the Jonathan M. Tisch Center of Hospitality at NYU's School of Professional Studies. 
The new mindset of travelers is a sharp contrast to those who were working and studying abroad last March. Ticket prices skyrocketed as travelers scrambled back to their home countries as the world's borders closed hoping to contain a deadly virus. Passengers were packed onto sold out flights, many of them leaving confused and scared without any strict social distancing and mask-wearing guidelines yet in place. 
"Nobody was wearing masks at that point," said Grace Symes, a junior at New York University, recalling her hasty return to the United States from studying abroad in Paris last spring. "There were a few people with gloves or they put on ski-goggles, but no masks at all."
The tourism industry, which came to a halt as flights were grounded, has slowly started to pick up again. Travelers are now being allowed again in some countries, including Spain and France, which have resumed travel between countries within the European Union. Strict mask-wearing guidelines are now enforced and there are a reduced number of passengers on flights.
But the economic costs of restricted travel have been damaging. Both countries, and wanderlust seekers alike, are eager to resume global tourism and safely leave their borders again.
The United Nations World Tourism Organization (UNWTO) reported that 2020 was the worst year on record for global tourism with a staggering 74% drop in international arrivals, resulting in a loss of $1.3 trillion in export revenues worldwide.
To address ongoing health concerns, the European Union has recently confirmed the bloc of governments are working on a transnational "vaccine passport" that will enable those who have been fully vaccinated to travel freely within member countries. Israel has already implemented a similar scheme, and several other countries are looking to follow suit. 
The UNWTO has said that vaccination certificates are an essential action to ensure safe travel and the recovery of the tourism industry. 
But some disagree.
David Thunder, a political philosophy lecturer and researcher at the University of Navarra in Pamplona, Spain, expressed his discontent at the use of vaccine passports by governments. He labeled them as "unnecessary, wrong and unethical."
"It automatically creates a two-tier society, divided into the vaccinated, who can travel freely, and the unvaccinated, whose travel privileges are revoked," said Thunder in a tweet.
Salvato recognizes the ethical concerns raised by those skeptical of a vaccine passport. He is hopeful, however, that governments will deal with inequities by ensuring there is universal access to vaccines to enable those who wish to travel to do so. 
And while a vaccine passport may help to bring back tourism, the future of international travel whether for work, study, or leisure will still come down to the safety and comfort of travelers. 
"We're seeing super concern with safety, and we're seeing the industry try to understand those concerns and meet them," said Salvato.