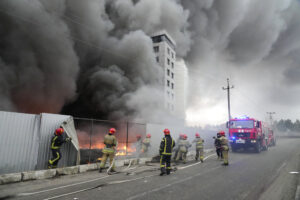 Russian President Vladimir Putin began a full scale invasion of Ukraine on Feb. 24 after months of troop buildup and failed diplomatic efforts by the United States and its European allies to avert a conflict. 
Since then, the Ukrainian people under President Volodymyr Zelensky have been courageously fighting to defend their freedom and their independence against Russian troops that have decimated major cities like Kyiv, Mariupol, and Kharkiv. 
The United Nations General Assembly voted overwhelmingly in early March to denounce Russia's actions in Ukraine with only five countries voting in support of Russia. The invasion has now left millions displaced since the start of the war as Ukrainian women and children seek refuge in neighboring countries like Poland and Slovakia. Here's how we got here: 
What's Behind the Ukraine crisis? 
Putin's goal is to restore Russia's dominance in the region when it was formerly known as the Soviet Union, according to Russian political experts.  
The Russian leader believes that Ukraine — a country of 44 million people that was previously part of the Soviet Union — should be under Russian influence. 
Putin has been threatening an invasion unless Ukraine backed away from the West. He has been demanding that Washington guarantee that the 30-year old sovereign country will not join NATO and that the alliance will hold back on certain military activities around the Ukrainian territory. 
In December, U.S. President Joe Biden and Putin spent two hours on a tense video call, focused largely on Ukraine. That call came days after U.S. intelligence officials discovered the Kremlin had been moving troops toward the border with Ukraine. 
Didn't Russia already invade parts of Ukraine? 
"This is Russia trying to complete an invasion that it wasn't able to successfully complete in 2014," said Bryon Moraski, an associate professor of political science at the University of Florida. "Historically, an understanding of Russia as a great power entails at least partial control of Ukraine."
When then-President of Ukraine, Viktor Yanukovych, decided in 2014 not to sign an agreement that would establish trade ties with the European Union, citizens began a series of huge protests with calls for his resignation.
Yanukovych fled the country to Russia, effectively relinquishing his power. The Ukrainian parliament voted to replace Yanukovych and install an interim government. However, Russia considered this to be an illegal coup and sent its military into various parts of Southern and Eastern Ukraine and the Crimean Peninsula.
With Russian troops in control, a referendum was held in Crimea, the result of which was overwhelming support for Crimea's  secession from Ukraine and re-joining Russia. Although these results were approved by Russia, the referendum was deemed illegal by Europe and the U.S. Putin finalized the annexation of Crimea in March 2014.
There have also been Russia-backed separatist movements in Donbas, where Donetsk and Luhansk have declared themselves independent People's Republics. The conflict between the Ukrainian government and Russia-backed separatist forces in this region have claimed thousands of lives – and have continued to do so throughout Russia's recent invasion in 2022.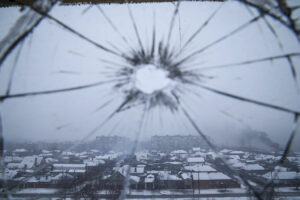 What does Putin want? 
Putin's narrative is that Ukraine was 'created' by Russia, implying an imperialistic rationale for his invasion with the goal of 'unifying' the Russian lands, according to experts. Experts argue, however, it is an overreach of his powers by extending direct territorial control over a sovereign state. 
New York University professor and historian of the Soviet Union, Anne O'Donnell, argues that even if Ukraine was 'created' by the Bolsheviks – the majority faction of the Russian Social Democratic Party – there is no historical basis to justify Putin's invasion. 
In the Post-Cold war era, Russia's sphere of influence has weakened relative to the previous legacy of Imperial Russia or the Soviet Union, according to Joshua Tucker, a Professor of Russian and Slavic Studies at New York University. 
Russia has claimed that the West took advantage of Russia's weakened influence by expanding their sphere of influence to formerly Soviet-aligned states, leaving Georgia, Moldova, and Ukraine as the last countries in Eastern Europe neither allied to Russia nor NATO.
However, Russia's dissatisfaction with NATO expansion and demands for security guarantees were discredited when he launched a full-scale invasion of Ukraine. Instead, the invasion has only validated the security concerns of Eastern European countries and led Ukraine to drift towards the West.
Read more:
Memory war between Russia and Ukraine
Victoria Smolkin's assessment of Putin's claim
Harvard Professor's Lubomyr A. Hajda's summary of the History of Ukraine
Kremlin's unwillingness to recognize Ukraine as a sovereign state
Do the Russian people support the invasion? 
Many Russians, who are aware of the invasion, disagree with Putin's decision and have taken to the streets in protests.
"About 8,000 people were detained in protests across Russia, including friends of mine," Sergey Sanovich, a postdoctoral fellow at Princeton University, said in an interview.
The Russian government censors media distributed in the country and has been accused of airing propaganda in support of the Ukrainian invasion. According to the ratings and polls reported by the Russian independent, non-governmental Yuri Levada Analytical Center, these censorship and propaganda efforts have been successful in convincing the Russian people not to oppose the war. They have even strengthened Putin's approval rating, which has grown to 83 percent as of March 2022.
Sanovich said the Russian government hasn't told its citizens about its attacks, but foreigners who are still able to contact friends and family in Russia have helped to spread the news from abroad. He said that Russian officials are spreading a false narrative inside Ukraine too, attempting to convince citizens that their country is crumbling and that "resistance is futile."
Under Putin, there has been continuous documented suppression of press and freedom of speech by the Russian Federation. Critics of Putin have found themselves in prison, poisoned or shot in the center of Moscow. Nearly all news coming out of the Russian state-controlled media has failed to acknowledge the war with Ukraine and anyone who is caught speaking out may face up to 15 years in prison.
Read more:
The War that Russians do not see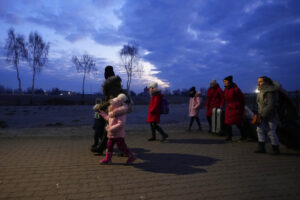 How is the world responding? 
Fearing the possibility of a nuclear war, the West has been careful in how it has sought to punish Russia for the invasion. 
NATO, a military alliance of 30 countries, has expressed support for Ukraine while condemning Russia's actions. Meanwhile, China and Belarus have voiced support for Russia. Belarus has even threatened to deploy nuclear weapons if the West escalates the conflict against Putin.
The U.S. and European allies have imposed harsh economic sanctions to punish Russia, especially the oligarchs supporting Putin's regime. Putin's actions have inspired a united front within the EU, which unveiled unprecedented penalties in terms of scale and reach.  
Western countries have frozen some of the Kremlin's top officials' properties and investments abroad, hoping to cripple their finances. They have also cut Russia from the global payment system, known as SWIFT. Experts, like Sanovich, say that such sanctions can be used as a bargaining piece in the war. 
Zelensky has also publicly pleaded with leaders to impose a no-fly zone over Ukraine, but so far NATO has been reluctant to escalate the conflict, fearing nuclear war. 
Read more:
Sanctions imposed after Russia's invasion of Ukraine
Sanctions the World put on Russia
What's at stake for Europe?
At stake for Europe is the disruption of peace across the continent, the likes of which have not been seen since World War II.  The U.S. and Europe view Ukraine as a bellwether for Russian intentions for the rest of the continent. 
Ukraine, which is surrounded by Russian allies and proxies, has only increased fears over the security of former Soviet countries in Eastern Europe. Those countries now perceive NATO and the EU to be their likely guarantors of sovereignty and security. Eastern European countries have voluntarily been exploring membership to the coalition. 
In the past, Western Europe has tried to maintain ties with Russia because of its dependence on Russian natural gas and oil. The EU imports around 40 percent of its natural gas from Moscow. But if Putin decides to retaliate against sanctions by shutting down pipelines carrying gas to the West, most consumers would likely have to start rationing.
Read more:
What Putin's invasion changed in Europe
Eastern Europe's security concerns