NEW YORK — "We're not angels, Russia's not the devil, but what they're doing is wrong," said Karen Cahn, a protester in Times Square on Saturday, March 5. Cahn, like thousands of others, showed up for a rally organized by Razom for Ukraine, a nonprofit dedicated to the betterment of Ukraine.
The rally, one of several in New York over the past week, was primarily concerned with the imposition of a no-fly zone over Ukraine amid the ongoing conflict with Russia.
A no-fly zone, which would prevent Russian aircraft from entering Ukrainian airspace, has been a hotly contested topic. NATO has denied Ukrainian President Volodymyr Zelenskyy's repeated pleas for such a measure, citing concerns of escalating the conflict.
Despite this, protesters voiced support for Zelenskyy's request and for the Ukrainian people as cries of "Protect our skies," "No-fly zone," and "Glory to Ukraine," rang out in Times Square. New Yorkers, Ukrainians and Russians alike expressed solidarity with the people of Ukraine. The normally red steps in Times Square were ablaze with blue and yellow as people wore Ukrainian flags as capes, held signs condemning Vladamir Putin as a war criminal and likening him to Hitler, and waved Ukrainian flags, some marked with the presidential standard of Ukraine. Even more carried signs proclaiming the need for a no-fly zone in giant block letters.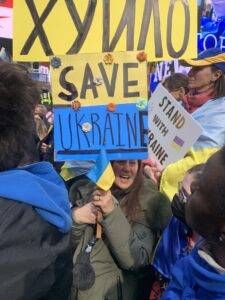 A cape-draped protester, who requested to be called Anna P. out of concern for friends and family still in Ukraine, started a chant of "Putin is a war criminal," which was echoed by the crowd. "New York is this diverse place for everybody to be, for everybody to be safe," Anna said when asked why she attended the rally. "It's not safe right now for other people in other countries. We need to make sure New York stands on that."
The diverse nature of New York was on full display at the protest, with attendees from all around the world. Russians held signs condemning Putin's actions and young and old alike stood side by side, united in their shared grief for the people of Ukraine.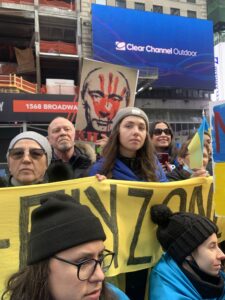 "All of us, all of us are angry right now, but don't forget that we are civilized people," one speaker with Razom said. "That is why we have to be decent, because Ukrainians are decent."
It was the lack of hatred on the part of the speakers and protestors at the event that was most striking. They are united not in anger, but in a desire for peace for both the Ukrainians and the Russians citizens who are suffering because of the actions of the Russian government.