The Saint George Ukrainian Catholic Church stands, as it has since 1911, on East Seventh Street, sandwiched between Second and Third Avenue in New York City's East Village. The stone steps that, just a few weeks ago, were pristine are now covered with an ever-increasing number of flower bouquets and a few still-lit candles. A poster features a photo of the violence currently happening in Ukraine against a background of blue and yellow ombre; it implores onlookers to donate directly to the Ukrainian Army.
This call to action is not the only one of its kind in this stretch of the East Village, nicknamed Little Ukraine. A bus station ad displays a slogan,'NY hearts U,' with a blue and yellow heart. Ukrainian flags hang on almost every block in restaurants, stores and on awnings. Veselka, a restaurant serving Ukrainian dishes and donating its Borscht profits to help Ukraine, has a consistent line of people waiting to dine in. An event at the Ukrainian Museum drew an estimated crowd of 100 people, according to the museum director.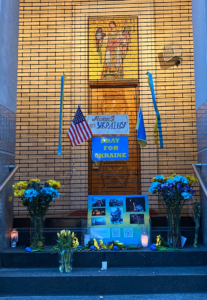 What stands out among all of these stories is how New Yorkers have moved to support Ukrainians.
"What I can say about the community as a whole now is it's really galvanized," said Maryna Prykhodko, a board member at the East Village-based organization Razom for Ukraine. "There's nobody in the East Village, Ukrainian Village community I know that isn't doing something to help Ukraine."
Razom has a backlog of 600 volunteers ready to help, Prykhodko added.
There's a shared sentiment among residents: a feeling that this community has shifted. Lines for Ukrainian businesses have consistently stretched down the block in the past couple of weeks. Emma Purcell, a NYU Tisch student who was standing at the end of a sizable line for Veselka on March 6, spoke of seeing this support unfold firsthand. "I've seen people walking around the city, you know, marching with others, especially in Washington Square Park," she said, "It's bringing people together, I think, for the better."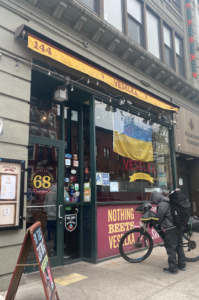 On March 2, the Ukrainian Museum, a long-standing testament to the neighborhood's roots, held a #StandWithUkraine event, where Ukrainian poets, artists and performers drew a large crowd, according to director Maria Shust. "In a sense it's really heartwarming how people have responded to what's going on in Ukraine and how the world has stood up for Ukraine, and this was another example," Shust said of the event
Behind all this support, however, is a sense of urgency. For Prykhodko, a member of Razom's core team, this has become a full-time job. For her, "any second we are not working on it is a second we feel that we've lost momentum."
Prykhodko urged residents of the East Village and beyond to further their support by demanding large-scale government action. "We really need, and I personally need, everybody I speak to, that hears me or sees me to contact their elected officials and representatives in government and demand for stronger sanctions in Russia, the seizure of Russian oligarch's assets overseas," she said, adding that she is also advocating for a no-fly zone. "I need people to demand more support for Ukraine, financially, militarily, and humanitarian aid."