The weather demanded nothing more than a lightweight jacket on the morning of Italian Heritage Day and Indigenous People's Day (formerly Columbus Day) on October 10, 2022. The iconic parade was just about to begin, and the atmosphere was lively and festive on Fifth Avenue; bands played music, dancers rehearsed with props, and crowds waving Italian flags gathered on the sidewalk to witness the spectacle. Yours truly, with a recorder in hand and a college ID around his neck, was waiting at 47th Street, the starting point of the parade where a fleet of gleaming vintage NYPD cars was lined up. 
The vintage cars were part of the parade, and the scene instantly caught my eye. Even though they had no direct links to Indigenous People's Day, it was an opportunity for the NYPD to showcase its history in the presence of tens of thousands of people.
I walked up to Michael Gorgia, Deputy Director of NYPD's Fleet Services Division, who has been with the city police for over 34 years. His gray suit, white beard, and deep baritone voice reflected his seniority and experience. "Most of these cars are privately owned [by retired or serving NYPD officers], although the department does have vehicles that it has preserved. We bought these cars and replicated them to be spot on to what the NYPD used according to each year," said Gorgia. 
The owners have done a commendable job of restoring these cars. They looked like they were driven off a production line, and the shiny metallic paint reflected the surrounding buildings.
"The oldest car we have here today is the 1958 Ford Custom 300, which was the first year of four-door cars," Gorgia added. "They always had two-door cars before that. The four-door cars in 1958 were very successful. So, they've continued with them ever since."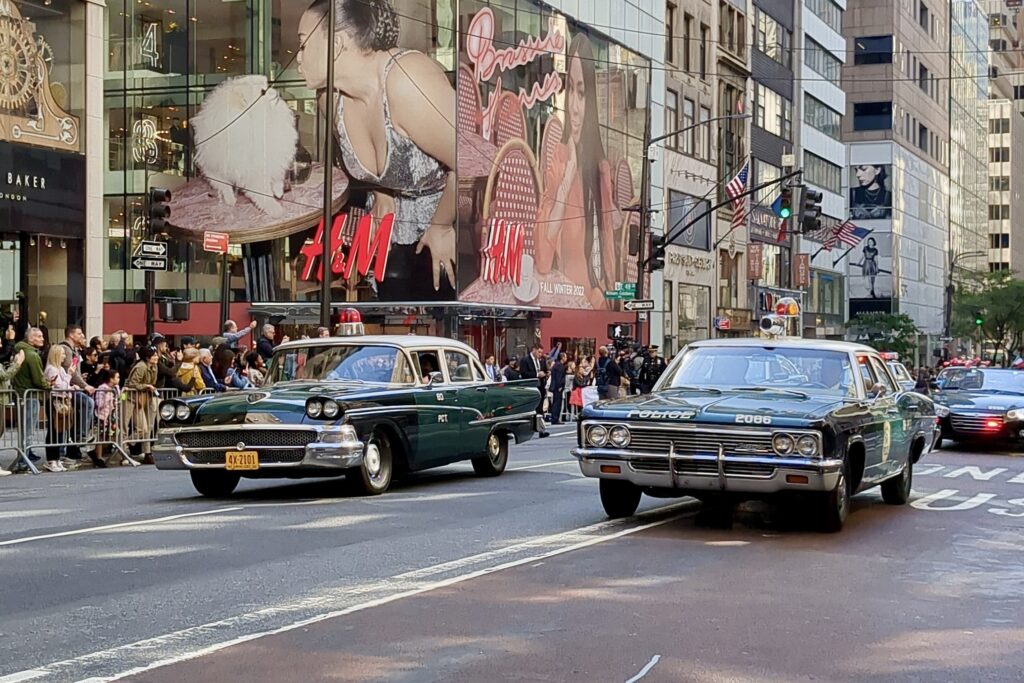 Four-door cars were a no-brainer. Their practicality was unparalleled compared to the two-door versions. The extra row of seats and improved luggage space (for additional equipment) were must-haves. Not to mention the larger footprint on the road, which aids high-speed stability.
Gorgia's former colleague Joe Moreno, a retired officer, is the owner of this particular Ford. He was sitting behind the wheel wearing black sunglasses, with feet out on the road and his smartphone in his hand. "The paint scheme is Envision Green and Coca-Cola White," said Moreno, highlighting the terminologies carmakers use to attract buyers. Even today, let's assume you purchase a Ford F-150 truck. You will have to choose from paint schemes like Hot Pepper Red, Star White Metallic, Atlas Blue, and more. It wouldn't just be green or white.
Moreno's Ford Custom 300 represents an era of a unique design language—a time when cars flaunted flamboyant tailfin elements and long rear overhangs. The tailfins were sharp edges on the notchback, inspired by fighter jets to improve the car's aerodynamics. Ford, however, wasn't the first to use this design. It was Cadillac, way back in 1948.
The Custom 300 was among the more powerful vehicles of its kind, churning over 200 horsepower. Moreno highlighted its underpinnings, "The engine is a V8 with 296 cubic inch displacement. It uses a three-speed transmission. The vehicle was completely restored, which included engine work, transmission, and bodywork. It has 82,350 miles on it. Although, there's no power steering, no power brakes."
Having non-assisted steering in the present day is like using a typewriter instead of a keyboard. It's functional and old-fashioned but would make your life harder because turning the steering will feel like an arm workout. An electronically assisted steering can usually turn with the strength of your pinky.
Moreover, the Custom 300 (not Moreno's car) has also appeared in Hollywood. "It's in many well-known films like The Marvelous Mrs. Maisel, Motherless Brooklyn, and Bridge of Spies," said Moreno.
Another fascinating vehicle at the parade was the 1987 Plymouth Gran Fury belonging to Rick Cowan, a young NYPD officer. "It was pretty beat up when we got it," he said. "It had a bullet hole in the passenger front door. So, we had to do a lot of work to make it look original. We just finished putting the interior back in and wiring up the lights, the siren, and all that stuff. It's a lot of work, but it's fun," said Cowan.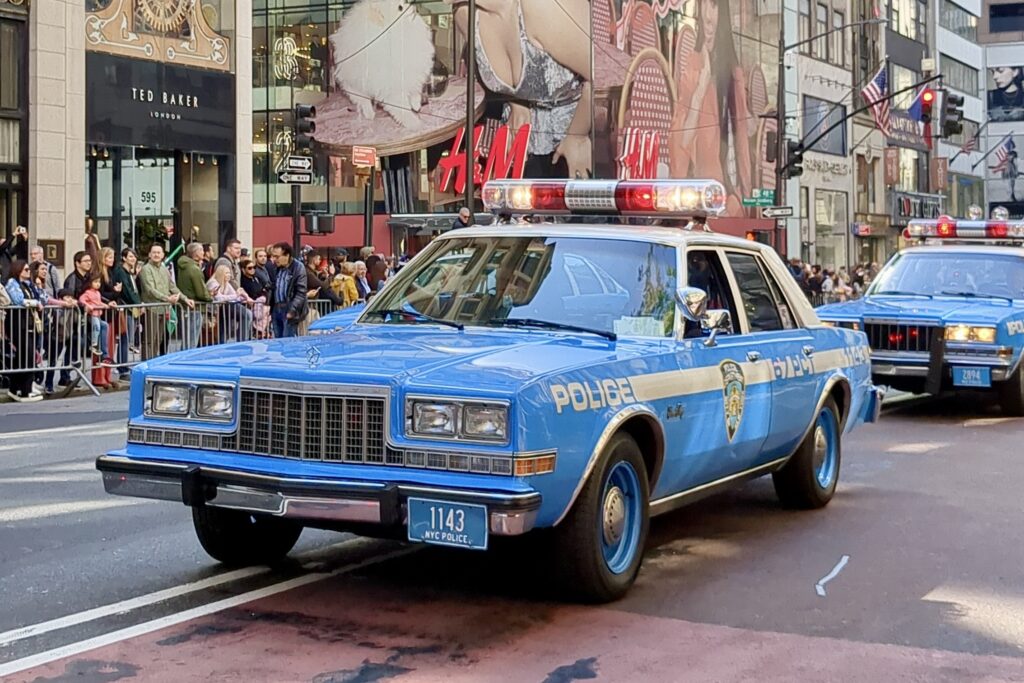 The Plymouth isn't as glitzy as the Ford. Instead, it packs a simple three-box design and plain bodywork sans cuts or creases. But Gorgia terms Cowan's prized possession as "America's police car of the 80s." He also said it was "NYPD's dearest" because the vehicle could take so much abuse. Chrysler Corporation (now Stellantis North America), Plymouth's then parent company, had engineered a rugged chassis and a reliable powertrain, which made the Gran Fury popular among police departments across the United States.
Gorgia also broke down the composition of the roof-mounted lights, which make police cars instantly recognizable. "The older cars here used the turret light, which includes a bright central light, with flashing and rotating lights on either side, designed for good visibility. Then they moved on to the V-shaped vector bar, which offers better visibility and is more sophisticated." The vector bar uses newer technology, like 360-degree LED lights for all-around visibility and a digital board to communicate with people.
Gorgia's other notable mentions from the vintage fleet included the 1966 Chevrolet Biscayne, a 1980 Plymouth Volare, and a 1990 Chevrolet Caprice, all appearing like rolling art in the parade.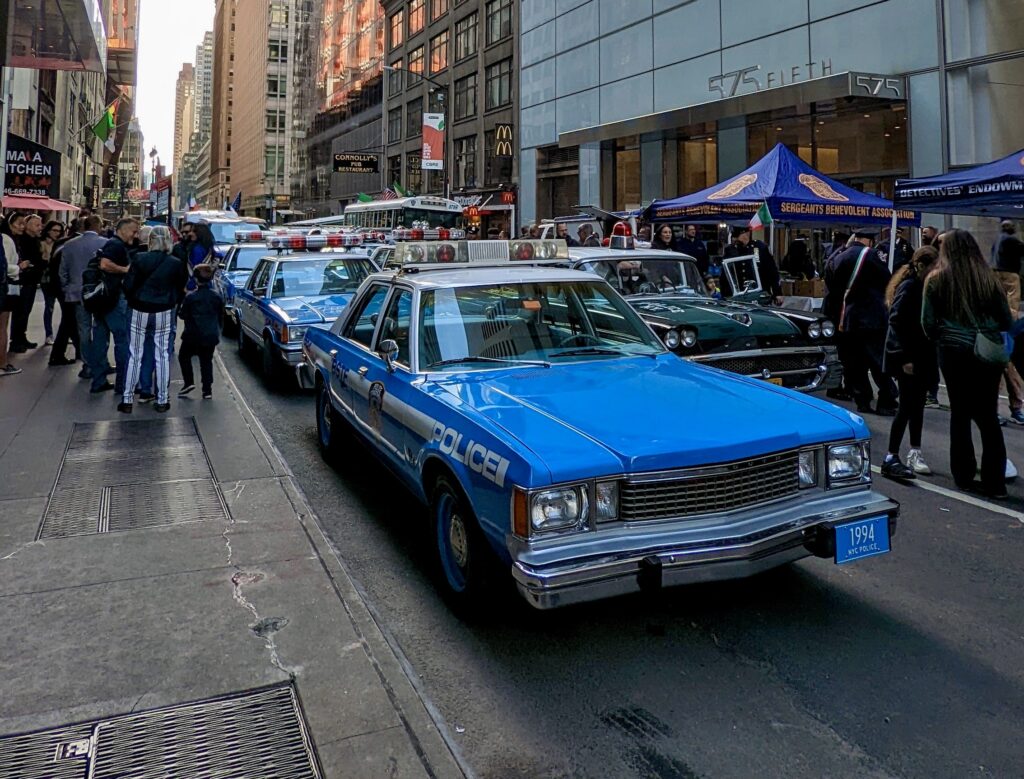 NYPD's current fleet includes the Ford Explorer, Ford Fusion, and Nissan Altima, among many others. But 2022 marks a momentous shift for the Fleet Services Division. Eyeing reduced emissions, an order for more than 100 Ford Mustang Mach-E fully electric cop cars has been placed. The first batch of electric Mustang Mach-Es entered service in the summer of 2022, and charging stations are being installed at multiple NYPD facilities.
However, operating electric police cars comes with pros and cons. Electric cars have instant torque, which in simple terms, is the force with which a car pulls from a standstill. Because electric propulsion works differently than gas motors, 100% of this force is deployed from the get-go, whereas in ordinary gas cars, the build-up is generally gradual.  
What this means for the police is that the explosive acceleration off the line will be handy in chasing criminals or reaching a crime spot in a relatively short time. EVs are also silent and discreet. On the other hand, an EV's driving range can be a major downside. Running out of charge during an operation would be any officer's worst nightmare. Charging times for EVs are long, and finding charging stations could be tricky.
Hence, it's unsurprising that some officers still hold on tight to the good ol' gas guzzlers, even if it's just for show purposes.
The vintage fleet may spend more time in the garage than on the road. It's likely to gather more dust than miles. But having existed way beyond its expiry date, it's clear that the fleet is still dear to the NYPD. It represents a long history whose emotional value cannot be overshadowed by its modern electric successors.