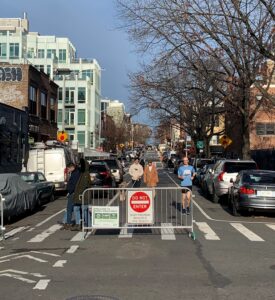 On Fifth Avenue Sundays in December, rows of eye-catching holiday displays and light shows cover entire building facades, welcoming shoppers as they walk shoulder-to-shoulder down an open street free of vehicles. But by 6 p.m., the New York Police Department slowly removes ten blocks of road barriers, herding shoppers back onto packed city sidewalks.
Meanwhile, on Berry Street in Brooklyn, residents, and visitors are still milling about in the middle of the street with local vehicular and bike traffic for another two hours until 8 p.m.- a repeated daily scene for over a year now.
The marked contrast between the two locations – which are just three miles apart – offers just one example of how the city is hoping to capitalize on foot traffic to help boost consumer spending during the holidays. But it has yet to increase the scale of NYC's Open Street program evenly across the five boroughs.
"The city pays lip service but knows what it has to do," said Alexander Hall-Duncan, founder of the subreddit r/MicromobilityNYC, a community that advocates for non-car transportation methods such as bikes and walking. Hall-Duncan wants to see the Open Streets program expand across the city and offer more permanent pedestrian zones compared to the usual temporary summer or weekend Open Street initiatives.
He added, "It feels like the city, mayor, council and Department of Transportation (DOT) all create small initiatives (like Fifth Avenue Open Streets) to pacify activists and say, 'look, we did this thing!'" "But they're so insignificant that it has no real impact on the city."
NYC's Open Streets and Restaurants programs opened city streets for pedestrian and business use to remedy limited indoor dining and community gathering options in 2020, with Open Streets becoming a permanent DOT program in 2021 and Open Restaurants now transitioning to a permanent structure.
From spring 2020 to summer 2021, restaurants and bars in these open street corridors saw an average 19% sales growth above pre-pandemic levels compared to nearby regular streets, which lost 29%, according to an October NYC (DOT) report.
"The streets weren't just the one place people could connect with people," said Mitchell Moss, a Professor of Urban Planning and Policy at New York University. "They're also helping save jobs in the restaurant industry, which is important because that sector had been devastated since so many restaurants had closed."
Mayor Eric Adams is now leveraging that success to reserve Fifth Avenue for holiday shoppers for three Sundays during December. This comes as the city begins accepting applications for permanent licenses this month for its adjacent Open Restaurant initiative.
"This is the kind of bold, creative thinking that we need to ensure the city's comeback is strong, equitable, and inclusive," said Adams. "And to all those coming in from out of town, I have only two messages: Happy holidays and spend money."
But the two programs have long-standing issues regarding re-routed car traffic that angers some car-owning residents in and around open streets, who believe that the spaces generate more problems than solutions.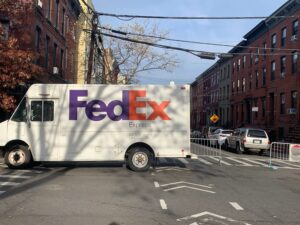 Neighbors have complained that road barriers congest neighboring street traffic and force unloading delivery trucks onto busy intersections – a daily sight on Berry Street in Williamsburg.
"Berry St. is an essential service that was taken away from residents and businesses," argues the anti-open street organization Berry St. Alliance. "We want to free Berry St. and restore our beloved street to its pre-pandemic state."
Residents' issues with the Open Streets' program have led to several dissenting petitions. This might explain why the DOT and Mayor have restricted the scale of the program to around 20 miles of the city's 6,300 miles of streets, with most of those 20 miles covering streets in Manhattan and parts of Brooklyn.
While city-wide Open Streets are limited, North Brooklyn Open Streets, a community organization that maintains Berry Open Street's barriers and operations, has organized significant public support to keep Open Streets operating in Brooklyn.
Seventy-seven percent of Greenpoint and Williamsburg residents said in a June 2022 survey that they use open streets like Berry St. more than once a week and want to see the program continue with a further retooling on pedestrian over car space.
"(I) very much support Berry as an open street!" said resident, Annie Shepard. "Unfortunately, it is routinely ignored, and cars and trucks drive on it all the time."
Fixing these issues on Berry Open Street is now one of the DOT's six major 2023 open space initiatives, which includes creating permanent bike and pedestrian lanes on Berry and clarifying where exactly cars can drive.
According to Akemi Sato, Senior Planner, and Designer at the Design Trust for Public Space, the active community engagement from supporters and opponents on Berry St. shows how addressing individual neighborhood and street needs, while connecting underserved areas, are vital for a successful expansion of Open Streets and Restaurants.
Sato says that what might work well for one community may work terribly for others, so a centralized city plan that connects specific neighborhood concerns such as increased car traffic is necessary for expanding pedestrian-friendly street spaces.
"We should have a citywide approach to these initiatives, and in ways of looking at equity and how an open street integrates into a citywide network," said Sato. "The ideal project is one that can continue to evolve along with their communities."