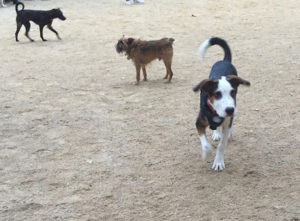 Carter is your average successful Manhattan native. He wakes up every morning at 7 a.m. and heads out for a morning run to start his day. He spends his down time at Washington Square Park and often transitions between his vacation home in Hermosa Beach, California to his brownstone on Beacon Street in Boston throughout the year.
Carter, a 3-year-old terrier, leads a comfortable life.
But Carter has not always had three homes. He was once homeless and living on the streets in Queens. Like many of the rescue dogs in Manhattan, Carter's family saved him from a kill shelter when he was a puppy.
"It's becoming cooler to have rescue dogs," Carter's owner, Chris Perez said. "Shopping for dogs definitely carries a stigma."
Despite Carter's neglected life on the streets, Perez said Carter has grown to become a very friendly dog. He visits Washington Square's Dog Park daily, greeting the various dog owners with affectionate licks and runs around with the other canines until he tires out.
"He loves to play with the other dogs," Perez said. "All of the dogs in this park are always super friendly and playful."
Carter was not the only recuse dog at the park. Eleven, out of the 13 dogs in Washington Square's Dog park yesterday afternoon were rescues. Four out of the 13 were pit bull mixes. Although pit bulls have some say an unfair reputation for being aggressive dogs.  New York City's recent dog culture might be trying to change that.
Dog owner, Briana Stamatis, said that rescuing dogs is starting to become the new cultural norm.
"Buying dogs from a breeder is not a thing that people want to own up to anymore." Stamatis said. "Adopt, don't shop."
In  affluent areas like Greenwich Village, dogs are being rescued from shelters and taken into high income homes where their quality of life is exponentially increasing.
Manhattan resident and dog owner, Rony Atkin, said she comes to Washington Square Dog Park with her dog every week and sees new rescue dogs every week.
"I've met very few dog owners who bought their dogs from a breeder," Atkin said. "In the city the dogs are all rescued. So many of them are pitties too, and they're all so sweet."
A  recent study by Animal Care Shelters shows that 93% of dogs and cats are being rescued from shelters.
Some dogs, like Carter, end up living a life of luxury.
"I don't think Carter even remembers his old life," Perez said. "He's too busy enjoying his penthouse apartment to stress about it."