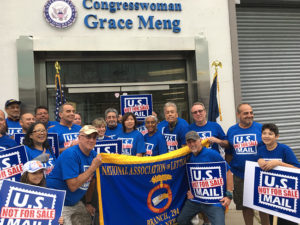 Postal workers unleashed their outrage at the White House's push towards privatization of the U.S. Postal Service during a protest in Flushing, Queens, yesterday
"U.S. mail is not for sale," dozens of postal workers at the protest chanted. "Whose post office? The peoples' post office."
In May, President Donald Trump created a taskforce to evaluate the USPS's operations and explore the possibility of privatizing the agency.
"The taskforce was supposed report back August 10," said Tony Paolillo, 59, of Flushing, Queens and the President of the National Association of Letter Carriers. "But back in July or late June, President Trump started mentioning how the Postal Service should be privatized. They already seem to have a foregone conclusion that the company needs to be dismantled."
He fears the consequences of the USPS falling out of government control.
"Privatizing the U.S. Postal Service Would be absolutely disastrous," Paolillo said. "We deliver to 157 million delivery points. With privatizing, the priority would be strictly on those areas that are profitable. All the other areas would see a drastic reduction in service. Rates will go through the roof."
Congresswoman Grace Meng, a Queens Democrat who helped organize the protest outside of her office, said this is a bipartisan effort.
"There are many Republicans who are supporting our efforts and we're working jointly," Meng said. "They recognize the damage this would do in their districts as well."
The government response so far has been the bipartisan drafting of House Resolution 993. The resolution, submitted on July 16, explains how the House of Representatives should take measures to ensure the USPS is not lost.
"The United States Postal Service is a constitutionally mandated service," the resolution reads. "The United States Postal Service is consistently the highest-rated agency of the Federal Government in non-partisan opinion polls; whereas the United States Postal Service is the Nation's second-largest employer of military veterans."
For Randi Weingarten, President of the American Federation of Teachers, the issue of USPS privatization was about "the ideals of this country."
"We in this country are not going to give the wealthy everything at the expense of everyone else," Weingarten said. "That is what this privatization measure is about, undermining the post office, a civic virtue in this country and giving it to the highest bidder."
Lillian Pascal, President of the American Postal Workers Union in Flushing, was concerned about what privatization would mean for postal workers.
"Across the nation we have thousands of employees," Pascal said. "They're earning great wages. How are you going to privatize this entity? What are we going to do with our employees?"
One of the strongest arguments behind privatizing the USPS is that the agency has been consistently losing revenue each year, according to a report. But there is a good explanation for this, said George Mangold, President of the New York State Association of Letter Carriers.
"We don't get a penny of taxpayer money," Mangold said. "The only reason you here about red ink in a post office is the 2006 Postal Enhancement Act."
The Act mandated the pre-funding of postal worker benefits up to 75 years.
"That cost us $5.8 billion every year," Mangold said. "That's the red ink you hear about. Otherwise, we'd be making money."