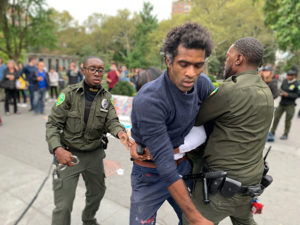 Photo by Griffin Wood
Park Enforcement Patrol Officers arrested artist Oriel Ceballos Sunday night for assaulting an officer in Washington Square Park. 
But bystanders and Ceballos have a different account of what happened. 
Since the event, videos of the officers tackling, punching and pepper spraying Ceballos circulated on Instagram, Twitter and YouTube. An online uproar ensued, with users hashtagging their posts #Justice4Or1el in solidarity. 
"A park officer hit him in the head a few times, and the crowd reacted when that would happen, asking 'why are you arresting him,'" NYU student and eyewitness, Griffin Wood, said. "Once more officers showed up, a sergeant tackled him and pulled him to the ground, putting him in a chokehold. A random civilian tried to grab him, because he used a chokehold, and the civilian is grabbed by a police officer and thrown to the ground."  
Ceballos said he was selling his art in the park — like he's done for the past three summers — when he was approached with a summons for vending without a table. A policy was passed in the summer of 2018 prohibiting the sale of art in parks without a table or blocking any pathways due to the possibility of imposed inconveniences. According to the official website for the City of New York, failure to comply with this rule can lead to possible arrest. 
Ceballos has received 10 summons for not having a table since 2018. He will be making a court appearance to fight the three most recent on November 11th. 
"I've seen people sell on the ground on days that I would have a table," Ceballos said. "Nobody would say anything to the artists. So then I just decided, since it's not a policy that's enforced, a policy that's inconsistent, I'm going to choose not to bring a table and minimize my display in a convenient way." 
The videos show the altercation intensify as Ceballos continued to resist arrest.
"This defendant has received multiple summonses and 311 complaints in recent months," Assistant Commissioner of the NYC Parks Department, Crystal Howard, said. "On the day in question, officers asked him for identification to issue another summons for violating parks regulations. He refused to provide identification and the officer attempted to arrest him. This individual resisted arrest and began to choke the officer."
The eyewitnesses and Ceballos, however, tell another side to the story. 
"These patrol officers are trying to convict Oriel for assault and all these different things that they did to him," NYU student Raj Kittusamy, an eyewitness, said. "I was there from start to finish, my eyes never left the scene. Never once did he perform any sort of aggressive or altercative action towards them. If their breathing was obstructed, it's because they were cutting off each other's oxygen supply by wrapping themselves around his body."
Ceballos claims that on the day of his arrest, he was never asked for his state ID. When he asked to wait for NYPD to come, the park officers began to arrest him. 
"It got to the point where they'd started writing me tickets without asking for my ID," Ceballos said. "The tickets just came to me. I realized that they must have memorized my information, or they had it at the office. But they could issue me a ticket anytime at will, so I stopped accepting them." 
The arrest lasted about 30 minutes, during which Ceballos claims his rights were never read to him. Kicked, kneed and punched, Ceballos said he was never told why he was being arrested, only that he was resisting arrest. 
"Even after I was pepper sprayed, handcuffed and restrained, I was never read my rights," Ceballos said. "I was taken out of the park, taken to the 6th precinct and restrained in a cell like a criminal until midnight. When I'm being transferred from the precinct to the bookings, I'm still asking 'why am I being arrested, why am I going to jail?' Nobody said a word. After I'm in a cell until 9:30 am, once I'm in court, I find out that I'm being charged with assault." 
Ceballos was released without bail, after the Judge decided there was not enough evidence of assault to continue holding him. His court date is set for November 13th. He plans to file a lawsuit against the park officers involved.