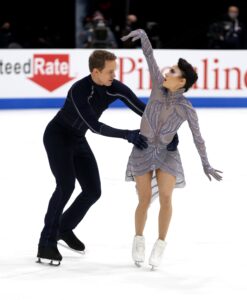 After 30 hours of travel, U.S. Olympic ice dancers Madison Chock and Evan Bates arrived home from Beijing last week with a sense of unfinished business. The duo achieved a personal best score at the 2022 Winter Olympic Games, beating the 2021 World Champions and snagging a team silver medal for Team USA. But instead of seeing four years of hard work validated and celebrating their victory, Chock and Bates returned deeply disappointed. Without a medal in hand, bizarrely given only the empty box that should contain it, they had been denied the medal ceremony that has traditionally followed every Winter Olympic event since 1904.
Winter Olympic awards ceremonies carry a special significance for athletes. Often held the day after an event with a little extra pomp, the custom of holding a separate medal ceremony began so freezing fans didn't have to wait in the cold for the victors to receive their medals.
"Part of the dream of winning an Olympic medal is to get the award ceremony," Bates said. "We know we'll get a medal eventually, but it feels detached from the achievement."
The Winter Olympics Committee decided to scrap the team figure skating award ceremony in light of Russian figure skater Kamila Valieva's positive doping test. Following a ruling by the Court of Arbitration for Sport (CAS), Valieva's initial suspension was lifted, throwing the medals for the Russian Olympic Committee, the US and Japan into question. As a result, the International Olympic Committee (I.O.C) chose to postpone the ceremony altogether.
Training as an Olympic-level figure skater is a full-time job. On-ice training, off-ice training, dance classes, strengthening, massage therapy, psychology—all are necessary to create the magical moments that audiences watch for a few minutes every four years. Yet despite their near-obsessive preparation and strict training regimen, Chock and Bates found themselves embroiled in a drama that wasn't of their making.
With the World Championships taking place in Montpellier next week Chock and Bates are already back to training. While driving to get from the rink to the gym, they spoke on a video call about the roller coaster of the past month. Chock, expertly handling the steering wheel, her miniature poodle on her lap in a matching winter jacket said, "It was just, quite, quite sad, because, we know how talented [Valieva] is."
It is still unclear if or when a medal ceremony will take place, as the time it could take to resolve the case against Valieva remains indefinite. The World Anti-Doping Agency (WADA), has been outspoken in its fears that giving "protected persons" such as the teenage Valieva a pass would effectively re-write the anti-doping code unanimously adopted in 2019 by stakeholders.
The U.S. figure skating team, of which Bates is captain, launched an appeal to the I.O.C. to reverse their decision. I.O.C President Thomas Bach agreed to meet with the athletes from both the U.S. and Japanese teams. According to Bates, Japan declined to meet with Bach, but the U.S team felt grateful for a chance to voice their disappointment. Chock added, "For a while it just felt like everything was out of our control. And so it felt really good to have something that could empower us to hopefully make change." 
Despite that hope, Bach was unable to provide any solutions, simply explaining the rationale behind the decision and the complexity of the case.
Bates remains frustrated by the outcome. "That moment of being able to get your medal at the Olympic Games is gratifying. It's like the punctuation at the end of a very long sentence."
Still, both Bates and Chock are to look ahead. Missing out on the podium in the individual event at the Games by just three points, they look forward to redeeming themselves at the upcoming World Championships.
"We really like [competing]. It's a great life,' said Bates. "And we're healthy, and we're happy."