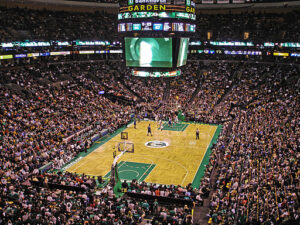 Boston is anything but a sports backwater. Since 2000, the city has had more playoff wins than any other city or region in North America. As far as championship wins go, Boston boasts 12 in 20 years between the Celtics, Red Sox, Patriots, and Bruins. These franchises have produced legendary dynasties, cementing Boston's position at the pinnacle of sports excellence over the last 20 years. 
However, it seems this success comes with a caveat. According to out-of-town fans and Twitter threads, "Boston fans are racist" and everyone knows it. 
Whether due to the city's history of racial tension, lack of diverse athletic ambassadors, or the cold weather climate, as basketball analyst Jeff Goodman put it on The Greg Hill Show, "Elite players don't want to play in Boston."
To understand the city's positioning among other hubs of professional sports in the United States, its rich history is central and there is arguably no better place to begin than with the 17-time World champion Boston Celtics. 
While it might be surprising to fans outside of Boston, particularly of younger generations, the franchise was actually an early trailblazer in terms of inclusivity. The first NBA team to integrate in 1950, the Celtics pioneered Black excellence in the league in a number of ways. 
"I don't know that there's a franchise that has opened doors more for African Americans in this country than the Celtics have," said critically acclaimed journalist Marc Spears, who investigated the franchise in his 2020 piece in The Undefeated titled "From Russell to KG to today's Celtics: Being a black player in Boston."
In addition to being the first NBA team to draft a Black player with the addition of Chuck Cooper, the Celtics were also the first to have a star Black player, the first to have a Black starting five, and the first to have a Black head coach.
So, if the team clearly has been a pioneer of inclusivity, where did the reputation of racism come from (from where did this reputation emerge)? According to Spears, the perceived racism of the city is largely due to the way it has been covered in the media, particularly in the 1980s. 
"They made it 'Larry Bird vs Magic'," Spears said, "It's 'White Boston' against 'Black LA'. The funny thing about it was the Celtics head coach was Black, and the Lakers head coach was white. If you didn't really do your research or get educated about it, it was easy to get caught up in the Larry Bird versus Magic Johnson, white versus Black thing. In actuality, they were just two great basketball players."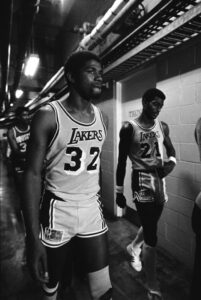 Despite the long list of accomplishments the Celtics achieved for Boston, including more championships than any other franchise, the team has not been immune to the city's history of discrimination. 
While Boston has become less divided over the years, its history of segregation is a possible reason for the tense racial backdrop. According to a 2020 article in Boston Magazine, of the country's 51 greater metropolitan areas with large Black populations, Boston is the 15th most segregated city. Could this be the reason why athletes in Boston have encountered racist fans for dozens of years?
Bill Russell, being both the NBA's first black star and first black coach who Spears had mentioned, called the city a "flea market of racism" in his 1979 memoir Second Wind. Almost 40 years later, Celtics shooting guard Marcus Smart revealed a racist encounter he had with a fan after leaving a home game. 
In the arena's parking lot, he noticed a white woman and her young son attempting to cross the road as oncoming traffic approached. Concerned, he reached out and tried to warn her. He was met with racial slurs, coming from someone in his own team's jersey. 
"I wasn't a person to this woman," Smart recounted via The Players' Tribune, "I was a form of entertainment. Nothing more."
The majority of athletes and journalists acknowledge that racism exists in every corner of American sports. Gregory Lee, once Senior Assistant Sports Editor at The Boston Globe, now acts as a Senior Assistant Managing Editor. In his eyes, a racist fan in another city might be seen as a random occurrence. However, in Boston the occurrence, although just as likely, fortifies an existing belief among many out-of-town fans. 
"Every now and then over the past few years you'll see incidents that involve race that reinforces those thoughts about the city," he said. In Lee's eyes, strides for racial equality outside of sports arenas will help shake this reputation. 
"It's not just about sports in the city, it's about the entire community," Lee said.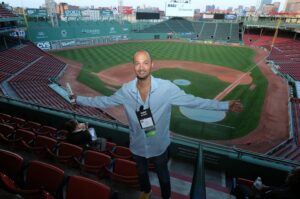 Ultimately, the city of Boston has cultivated a strong sense of community for athletes and fans alike. 
"I've always had an affinity for the city of Boston and its unique history," says Lee, who served as the 19th President of the National Association of Black Journalists, and helped bring the group's 39th Annual Convention to Boston. "I do know that it's an underrated city in terms of what it offers. I'm a southern boy, I'm from New Orleans, so it says a lot for a southern kid who has embraced Boston and this region."
Similarly for Spears, the city ultimately has far more to offer than the occasional racist encounter. 
"Would I say that nothing happened? I wouldn't say that." Spears states, "I now live in the Bay Area and, the funny thing is, I've gotten the same dirty looks and suspicious looks for being a big Black man that I got in Boston, that I got in Chicago, it just happens all over the country, in my opinion." 
Excluding fans like the one Smart faced outside TD Garden, Spears recognizes Boston's supporters as among the country's most spirited. 
"I think their fans are the smartest fans in the league in terms of the NBA and the passion I've seen at basketball games and Red Sox games," Spears says. "It's hard to duplicate that."
As progressive as the Celtics franchise has been, they are not alone in writing the city's story. Today, Black athletes make up a small percentage of Major League Baseball as compared to their dominance in the NBA and NFL. In Boston particularly, the notion that baseball was "a white man's game" stuck around for quite some time.
While the Celtics were the very first team of their kind to integrate, the Red Sox were the very last team to do so in the MLB, according to Fox Sports. Despite making strides in later years to welcome both Latino and Asian players into the franchise, the team has struggled to escape their troubling history in relation to Black players. 
Starting with the team's legendary home at Fenway Park, it can be found at 4 Yawkey Way, a street named in honor of Tom Yawkey, owner of the Boston Red Sox from 1933 until his death in 1976. 
The man was known to be openly racist, even by the standards of that time. His hand-picked manager, Michael "Pinky" Higgins, said there would be "no n—– on this ballclub" as long as he had anything to say about it.
Over the years, Red Sox fans have been in the news for their racist remarks both at home and away. Whether to visiting players like Baltimore Orioles center fielder Adam Jones, their own team members in earlier years, or fans as young as 6 years old, the recurrence of these incidents has left a lasting imprint, not only on the Red Sox as a franchise, but on the entire city of Boston.
When it comes to the New England Patriots and the Boston Bruins, their demographics don't do much to sway out-of-town fans from their preconceived notions. According to a 2020 survey by Morning Consult, a data intelligence and market research company, the Patriots come in third place for the most white fan base, just behind the Pittsburgh Steelers and Green Bay Packers.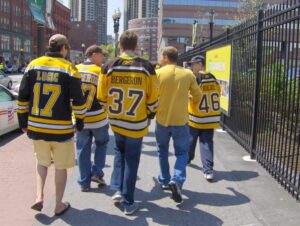 As for Boston's hockey team, Morning Consult reports that the Bruins have the most white fan base in the NHL, with 70% of their supporters being white. Despite this statistic, the Bruins were actually the first NHL team to integrate with Willie O'Ree in 1958, joining the Celtics as early trailblazers of inclusion on behalf of Boston.
Ultimately, a collection of historical occurrences, isolated fan encounters, and the media's portrayal of the city has left a lasting impression on Boston. The history of inclusion across a number of disciplines, even when it was not so popular, is central to understanding the city's position as a hub of sports. As Spears indicated, the undeniable passion of Boston fans is likely to outlive America's preconceptions about the city and its incredibly talented teams.
[avatar user="Alex Smith" size="thumbnail" align="left" /]Alexandra Smith is a third-year NYU student majoring in Broadcast Journalism and Latino Studies.