After three rounds, Frantz Pierre did not have his hand raised. He was exhausted. The adrenaline rush which flavored each kick and punch in the first round had worn off. He cried. He even became physically ill.
This was Pierre's first amateur Muay Thai fight at a tournament in Fishkill, New York. Pierre said it felt like his soul wasn't in his body. It was the most intense fatigue he had ever experienced.
In combat sports, triumph is displayed in its most lucid manifestation – the imposition of one man's will over another. But in a fight, there is another will to contend with, the part of the fighter's own will that wants to stop.
Though he could barely stand in the ring, Pierre made it a point not to give up. He made it to the end of the fight. Pierre learned this about himself: in facing adversity, he would not lie down.
He became a sponge in the gym. He never underestimated his opponents. He listened to his coach. And he moved forward knowing that he would never quit both inside the ring and out.
 Beginnings in Haiti
Peering out from his balcony in Cap-Haitian, Haiti, a 6-year-old Frantz Pierre saw black plumes of smoke emanating from the city. It was 2004 and the Haitian coup d'état was underway. The rebel National Revolutionary Front for the Liberation of Haiti sought to overthrow President Jean-Bertrand Aristide. They clashed with militants who were in favor of Aristide, often resulting in death and destruction. The cacophony of robbery, arson and gunfire drifted along with the miasma of burning buildings already submerged in chaos. And it was amid this warfare and violence in Cap-Haitian where Pierre said he honed his killer instinct.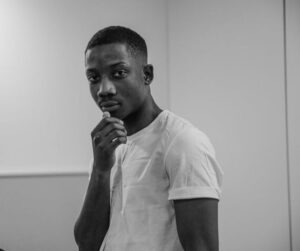 Pierre grew up playing soccer barefoot on a slab of concrete every day with his friends. Sometimes an uncoordinated kick resulted in torn skin or broken toes. Pierre didn't know it at the time, but he was developing a kicking style that would later influence his Muay Thai arsenal. Pierre also participated in many street fights, starting in the third grade.
He won all of them save for one – the kid surprised him with a spinning back kick, a moment Pierre wouldn't soon forget. He was a self-proclaimed "bad kid", but not without reason.
"The whole culture is you have to be very masculine," Pierre said. "It was kill or be killed. You had to be tough so that no one would fuck with you."
Pierre's father moved to New York shortly after he was born. He worked construction in Queens and sent home money to help with the family. His father visited during the summer, but it was his mother and aunts who raised him.
He recalled the disciplining administered both by his mother and teachers. But he doesn't regret the street fights.
"Looking back, I'm happy they did that because it shaped who I am today," Pierre said. "It made me mentally and physically tougher."
Finding Muay Thai
Pierre, 21, is an amateur Muay Thai fighter from Jamaica Queens, New York. He fights in the 130-135 pound weight classes. Like many other amateur fighters, he aspires to beat the best fighters around the world. After spending 11 years in Haiti, he moved with his mother and two siblings to New York to live with his father.
Pierre knew he wanted to be a fighter in high school. He started out boxing at a local gym his senior year, but quickly became dissatisfied with boxing's exclusivity of the rest of the human body. His legs, knees and elbows were all resting in latency.
After he graduated, he got a job to pay for his training at Evolution Muay Thai in Manhattan. He wanted to train as a mixed martial artist, but fell in love with the intricate striking of Muay Thai. After nine months of training, Pierre had his first fight in early November of 2018.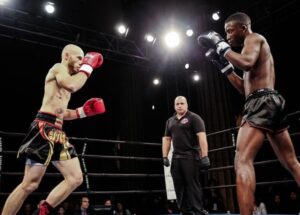 "The first fight he got very tired and quickly gassed out completely," Evolution Muay Thai coach Brandon Levi said. Levi founded Evolution Muay Thai in 2006 after competing in Australia and Thailand. Levi has cornered every one of Pierre's five fights.
"When I lost, I was upset because I knew I could have easily won that fight," Pierre said. "I was mad at myself."
Pierre said it was this humbling defeat that inspired a new approach. He worked on cardio, became more fit and forged a new mentality – he would be cerebral in the ring, picking his shots wisely. "I think [the loss] was one of best things to happen to him," Levi said.
Pierre was different outside the ring, too. He became more confident. He was more controlled. Because of Muay Thai, he found himself walking the New York streets with his head held high.
Pierre was pitted against "Nasty" Nate Cruz in his second fight at Friday Night Fights in early 2019. Amidst the signature oboe slurring through the traditional Muay Thai Samara, Thai music which typically accompanies Muay Thai fights, Pierre looked composed. The two fighters touched gloves and quickly traded kicks, each fighter returning shot for shot.
In the second round, Pierre began walking Cruz down, now delivering his body kicks and leg kicks as counterstrikes. Pierre even landed a head kick on the chin, which sent Cruz stumbling towards the ropes.
In the middle of the third, Pierre unleashed a combination of punches that resulted in a standing eight count. Pierre patiently waited in his corner, his countenance unchanging and arms hanging over both ropes like he was waiting for a bus. Pierre won a decisive decision 30-26. His face remained stoic, but the relief emanating from his swagger as he walked towards his coach.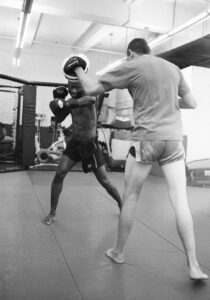 Pierre went on to win his next three fights, improving to 4-1. Still, he said he remains humble and approaches each fight with a business-like mentality, keeping his emotions in check.
One opponent, Brandon Joza, who Pierre beat at Friday Night Fights, said Pierre has a good poker face.
"I can remember landing two good punches on him that were on the chin and I don't know how hurt he was because of his composure," Joza said.
Pierre said he is not the fighter to beat his chest or fight with anger.
"One issue I've had with martial artists is that they start to believe in their own hype," Levi said.  "They'll do well for a couple of years and build a reputation. Then people start telling them they're really awesome and they start to believe it and their ego starts happening. This hasn't happened with Frantz."
Training During the Pandemic
COVID-19 has presented its own unique challenges to the Muay Thai community. Towards the middle of March, Evolution Muay Thai closed its doors in regulation with the tentative pandemic protocol. And when the gym reopened in mid-September, social distancing proved another daunting limitation.
"We can't do any contact, clinch, sparring and we're not allowed to do group classes. I can't get the group together and teach the way I used to. It's been very challenging. A lot of other gyms that were around have closed down, gone bankrupt or moved away because they couldn't pay rent. About half of the gyms that were here eight months ago are gone. It really decimated the New York fight scene," Levi said.
With no gym, the fighters had to adapt. Over the summer, Pierre and his team trained on the soccer field in Chelsea Park. One of Pierre's teammates at Evolution, Jeremy Sanchez, who held six belts at the amateur level, sparred with Pierre during these outdoor sessions.
"He has incredible timing, a natural inclination to want to counter and counters with a lot with kicks," Sanchez said.
And when they spar, Sanchez said he can tell Pierre is always thinking.
Because of COVID-19, there are still no fights on the horizon for Pierre. However, he continues to work on his fundamentals and his passion for the sport remains unwavering.
Pierre also said he wants to visit Cap-Haitian one day to look once again upon the land on which his fighting spirit was forged. The thing he said he misses most is the freedom – walking around all day without a shirt, fighting with little interference from police. He said the freedom there is amazing.
"Fighting is what makes me happy. I can die tomorrow; I'd rather die happy then do something I don't want to do and die sad," Pierre said.