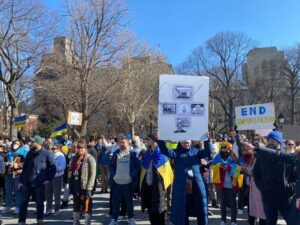 Blue and yellow clothes dotted the hundred-strong crowd at Washington Square Park for the second Sunday in a row. Ukraine's azure and gold banner waved in the air as its bearers paraded around the park's iconic fountain at the heart of New York University. Activists hoisted signs with calls for peace and demands for an increase in American support to the Eastern European nation. Absent from the flags was the Russian tricolor — but Putin's war in Ukraine has had wide-ranging effects on nationals of both countries, both at home and abroad.
Following the Russian invasion of Ukraine, which began on Feb. 24, a bloc of Western nations, including the EU, Switzerland, the U.K. and the U.S., imposed sanctions on individuals within the Russian Federation and made Russia the most sanctioned nation in the world, isolating the country from much of the global economy. Speaking from the White House on Mar. 8, President Joe Biden announced a nationwide ban on the importation of Russian oil, an economic action conducted alongside the U.K. Even local governments are taking steps to distance themselves from Russia. New York Governor Kathy Hochul issued an executive order on Feb. 27 directing the state government to divest from Russian-owned or based entities. Similarly, New York City Mayor Eric Adams visited the East Village Ukrainian institution Veselka, ordering a cup of borscht that contributed to the restaurant's campaign to provide fiscal support to besieged Ukranians.
The sanctions have contributed to the ruble falling as low as 158.30 to the dollar from a pre-invasion price of around 80 rubles per USD. Those holding money in Russian accounts have watched their wealth disappear. In turn, Russia has employed "economic countermeasures," including a foreign currency ban that prevents rubles from leaving the country. For Russian international students in New York, this has led to a feeling of helplessness as the financial support line of their families back home has been severed.
"I can't study, I can't do anything," Polina Tyurikova, a second-year psychology student at NYU, Russian citizen and social media manager of the Russian Culture Club, said as she described the distress that the economic isolation has caused, "I'm scared that I'm not gonna be able to finish my degree."
Other Russian students foresaw this worst-case eventuality.
"Before the sanctions kicked in, my mother told me to go to the bank and withdraw whatever money I might have in my Russian account," Finley Muratova, a Russian-Ukrainian international student and senior journalism major at NYU, said. Their parents, both journalists in Russia, predicted the economic consequences of heightening tensions along Ukraine's border.
NYU is home to 226 Russian students NYU President Andrew Hamilton told students in a town hall event on Mar. 4, according to Washington Square News. In the same town hall, MJ Knoll-Finn, the senior vice president for Enrollment Management and Student Success at NYU told concerned Russian and Ukrainian students that a fund would be created for their emergency financial relief. An email sent to the international student community indicated that these funds would be capped at $500, subject to a case-by-case review. The fund is designed to help students continue their studies at NYU, but the ongoing crisis has had more than just an economic toll on NYU's Russian community.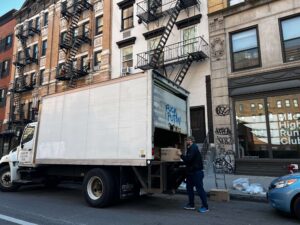 "We have the sensation of Germans in 1939, you know? When you are enraged but there is nothing you can do because the regime has its grip on the power so strongly," George, a Moscow-born member of the NYU Russian Culture Club, said. "It's just bloody frustrating and embarrassing." George requested to be identified by his first name only. 
"Emotionally, it has been quite unbearable," Muratova said. Muratova is an organizer who participated in creating NYU's Vigil for Ukraine held on Feb. 28. There, Muratova spoke to the student community about their great aunt, Nina, who lives in Ukraine: "Keep being loud. Because this war is somehow being conducted on our behalf. Show the world that you stand firmly against it. Speak up, friends. Because I know you don't want anybody to lose their Ninas. And I don't want to lose mine."
Following news that the Duma had passed a law making the distribution of "fake news" punishable by up to 15 years in prison, Russian students expressed concern that their activism in the U.S. could result in reprisals for themselves and their families. 
"Personally, I don't think it's going to affect the way I report," Muratova said of the new law, citing the assurances provided to them by the First Amendment, adding: "Right now, my thoughts are with my colleagues back in Russia."