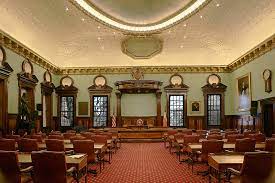 A new bill, passed Wednesday, will require the Department of Health and Mental Hygiene to perform a citywide assessment of current abortion care providers in New York City. The survey will evaluate both the availability of abortion-related health information and the quality of access to language services, addressing potential holes in abortion-related services. 
According to Council member Tiffany Cabán, the Mayor's office will then weigh "the feasibility of providing a city grant program." The bill was unanimously approved by the Committee on Women and Gender Equity, and later passed by the full City Council. First introduced in June, the bill follows the Council's recent sweeping approval of a range of gender-based health reforms, collectively dubbed a "maternal bill of rights."
"We shouldn't look at the legislation in a vacuum," Committee Chair Tiffany Cabán said. "A person who finds themselves in our city, who can become pregnant and needs or wants access to abortion healthcare–we're removing as many barriers as possible."
The call to remove barriers to abortion care comes in the wake of the reversal of Roe v. Wade, which eliminated the federal right to abortion and was followed by the introduction of restrictive abortion laws in many states. The influx of migrants to New York, which is a sanctuary city, and the likely pursuant increase of women seeking gender-specific healthcare is a situation the City Council is actively preparing for.
"It's important we make sure all women have access [to abortion services]," said Council member Althea Stevens. "Especially in New York, we want to make sure that women feel comfortable and safe, because we know that people are traveling here to get access."
Stevens also pointed to the historic nature of the first women-majority Council as an opportune moment to push support for women's issues. According to Council member Kristin Richardson Jordan, the meetings have been focused on the legacy the current City Council hopes to leave behind.
"Because a lot of us, myself included, are Black and Brown women, we also want to see things done with a racial justice lens," Richardson Jordan said. Research shows that low levels of English proficiency create significant barriers to accessing healthcare in the United States. Richardson Jordan added that the proposed additional language service will primarily benefit low-income women of color.
According to Richardson Jordan, the assessment is just the first step. The main challenge will be implementing any proposed changes. Paying language interpreters, agencies and providers will not come cheap, she explained, pointing to the competing priorities surrounding city budgets.
Richardson Jordan remains hopeful, however, that the legislation for women and birthing people's equity being passed by the current administration will result in real action being taken. 
"When we see the needs assessment, and it's time to actually pay a bill," Richardson Jordan said, immediately following the committee's unanimous passing of the legislation, "I hope we remember today, and we remember how we're feeling."