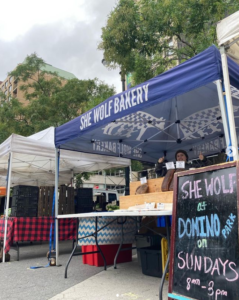 In the autumn of 2020, Sarah Vitale, the bakery manager at She Wolf Bakery, would arrive at work at around five or six in the morning. She jump-started the day with an array of tasks, reviewing the orders put in by the bakery's wholesale customers, checking inventory, and shaping baguettes in the kitchen. Each workday seemed like almost any other: habitual, planned, and composed.
But these workdays weren't like any other. Not only did the COVID-19 pandemic continue to ravage the outside world, but the bakery that seemed so ordinary in dawn's light was one of the few to remain open in New York City after the virus hit the area in spring 2020. Continuing to work long shifts through a pandemic already stretched Vitale thin. But, to add to the stress, she found herself suddenly promoted to bakery manager during the fall, just months into the pandemic, with little preparation or notice.
"I definitely experienced a delayed stress reaction to COVID, where I feel like I was really very calm and a source of support for a pretty long time," Vitale said in a phone interview in October. "And then, not long after my role change around this time last year, as we got closer to the new year and into last winter, I started experiencing anxiety and panic attacks like I never have in my life."
Vitale, 38, began working in restaurants around 2002, not in the kitchen, but in the front of the house. She had originally gone to school for acting but, after graduating around 2006, realized it wasn't what she wanted to do. So, she went into restaurant work, a career switch which she said is natural for actors and musicians because of the industry's more flexible hours.
As time went on, she felt less and less fulfilled by the work and wanted to get out. Her next step wasn't obvious to her. She spent her daytime hours working the front of house at Roman's in Fort Greene, but, at home, she had been making all of her meals from scratch and baking had become an all-consuming hobby.
"One day this light bulb went off when I was just, like, 'I was up till midnight last night baking and I'm already in a restaurant. It's not that huge of a leap, why don't I do this?'" Vitale recalled. "So then I ended up moving into the pastry kitchen. And from there moving into bread."
Her last stop before entering the kitchen was at Roman's, where She Wolf Bakery began. There, she worked as a bartender and met Austin Hall, the soon-to-be-founder of She Wolf, who was the restaurant's in-house bread baker. In 2013, Hall expanded She Wolf into a commissary kitchen in Long Island City, then expanded once again to the Greenpoint production facility where the bakery has permanently resided since 2015. After Roman's, Vitale moved into the pastry kitchen at Marlow & Sons in Williamsburg before finally making her way into the baker position at She Wolf Bakery.
"The bread that they were making was so good, and it was one of my favorite things in the city that was being made by anyone," Vitale said. "I just was like, 'I really love what they're doing over there, I wanna know what that's all about.'" So, she joined the team.
Vitale began working at She Wolf Bakery around 2017 as a baker. She spent her days with flour-coated hands in the bakery's production facility. She and other bakers would knead, shape and bake the loaves that supply many of New York City's Greenmarkets and restaurants, including Roman's and Marlow & Sons.
When Vitale looked back at her past, she realized that her passion for baking started long before her transition to restaurant work. Growing up in Long Island, Vitale's dinners were those quintessential weeknight recipes made with some sort of canned soup. She fondly remembers the tender ketchup-braised brisket that her Jewish mother would make for her, the cakes her grandmother used to bake for every holiday, and the alfajores her Argentinian aunt brought to one of their first Christmas gatherings.
Although Vitale said she "will still 100 percent make a green bean casserole" from Campbell's Condensed Cream of Mushroom soup and French's Crispy Fried Onions for Thanksgiving, she now favors homemade roasted chicken and vegetables, a change that, for her, reflects what drew her into the food industry in the first place.
"I've definitely seen a real change in the way that we look at food, really from every perspective and in every way—like the sort of renaissance that we're living in now when it comes to cooking and sourcing ingredients, and an acknowledgement and even reverence for agriculture," she said. "I think if you had taken my life and put it 20 years back or if you had changed the place and time a little bit where that wasn't happening, I don't think that it's an industry that I would've felt drawn to or wanted to stay in."
COVID-19 tiptoed into New York in February 2020 before erupting a month later, forcing most of the city's businesses to shutter indefinitely. As restaurants shut down, She Wolf lost a substantial method of selling its products, but it found some solace in the Greenmarkets, which were considered essential businesses and remained open throughout the pandemic. Because the Greenmarkets stayed open, so did She Wolf, and Vitale continued going to work every day.
"Our lives didn't change in the way that most people's lives changed," Vitale explained. "We were still showing up to the same job with the same people doing essentially the same thing every day."
Ultimately, She Wolf Bakery was not immune to the threats of the pandemic and the bread supplier was forced to shift many of its operations to ensure the safety of its employees. Immediately, the bakery cut down its menu by about 20 percent, bidding farewell to burger buns, maple oat boule, even its beloved baguettes (though they eventually returned to the menu). They were also forced to reduce the size of one of their first and most beloved breads: miche. A nourishing and nutty whole wheat sourdough coated in rye flour with a thick, flame-darkened crust, miche weighs about four pounds and is about the size of a steering wheel. Before the pandemic, She Wolf Bakery would bring a cutting board and knife to the Greenmarkets to cut and sell the miche in quarters. Now, in order to avoid bringing the cutting board and knife, they decided to shrink the miche to about half the size and sell them individually.
At the bakery itself, the usually collaborative teams of bakers were forced to undergo some of the isolationary measures being imposed outside. Overall, fewer people were scheduled to be in the bakery at one time, and the shifts were timed in a way that ensured minimal overlap. A handful of people would work from 4 a.m. to noon, and a few more could come in from 10 a.m. until 6 p.m. This separation extended into the kitchen as well, with the four-person loaf shaping table converted to hold only two people.
To Vitale, the loss of the family meal was the change that truly struck at the heart of the bakery. Every day at the markets, the bakery would trade their bread with other vendors for ingredients like zucchini or cheese to make a staff meal. This tradition stopped almost immediately after the pandemic began.
"That was very heartbreaking," Vitale said. "That was part of somebody's job on any given day—to make food for staff—and we would schedule our day so that everyone could more or less eat together."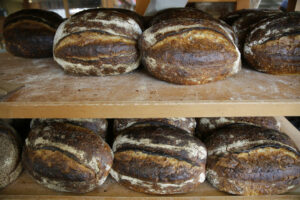 Although Vitale was disappointed about the cessation of the family meal, the most jarring change for her came with the departure of the former bakery manager, Thomasin Alter, who abruptly resigned in October 2020. Alter and her husband—who had lost his bartending job in March that same year—had welcomed a baby just a few months prior and were concerned about pandemic safety in New York City.
"Facing financial insecurity, because my husband still didn't have a job, and there was no vaccine in sight, we just made the decision that being in the city and me going back to work full-time in-person—because there was no longer a work-from-home option—just didn't feel worth it," Alter said in a phone interview in December. She and her husband concluded that leaving New York was the best option, and Alter handed in her resignation to She Wolf Bakery directly after making the decision.
It was almost a no-brainer that Vitale was offered the open position. She had been working with the bakery for a couple of years by then, had been promoted to a supervisory role earlier in the year, and was enthusiastic about the bakery's mission. But because Alter's decision was on the spot, there was no opportunity to give Vitale a proper hand-off.
"Yeah, that really didn't happen just because, you know, all of it just was never how it was gonna go—I wasn't planning on leaving at all, I saw myself at that job for a long time," Alter said. "I definitely wish I could have been a part of it. It just was—yeah, there wasn't really any scenario where that was possible given the circumstances."
Vitale went into the role blind, a change made even more overwhelming by the impending fall season—one of the busiest times of year for She Wolf Bakery.
"The job was a rough transition for me," she said plainly.
As a bakery manager, Vitale acts as a sort of sous chef. She manages a team of about 10 people at one time, focusing on anything and everything that happens within the walls of the bakery. This includes, of course, baking but also tasks like recipe development. She was now the boss of the coworkers she came to know as friends.
"I did not really have any experience doing a job like that beforehand," she said. "And I definitely am not somebody who has ever gotten any enjoyment or satisfaction out of telling other people what to do."
Vitale already knew that Brooklyn was quiet in the early hours of the morning. After all, she had spent years walking out of the door of her East Williamsburg home at the same time that many are already sleeping or about to sleep. Going to work in the dark, in the dead of night, was something that she had gradually gotten used to. But, during the pandemic, when the only people leaving home for work were employees in healthcare, grocery stores and construction, it was quiet enough to hear a pin drop, and the solitude that used to be familiar now felt more threatening.
"There was a period where I felt much more afraid going to work at those hours, because it wasn't just that there was no one around but there were a lot of people doing a lot of crazy shit during that time," Vitale said, referring to the uptick of violent crimes that emerged in the city and the rest of the nation during the pandemic.
Vitale soon became plagued with a more relentless anxiety. Once the fall season rolled around and she became the new bakery manager, her mental health took a dip.
"I was very nervous about taking on this job and had a lot of feelings I wasn't good at it for a while," Vitale said. She felt particular pressure to keep operations running smoothly during the chaos of the pandemic. "Anytime that I felt like I was not executing that well was really, really, really hard for me."
Plus, with the bakery open throughout the entire pandemic, Vitale found little time to take a breath.
"I do wish that we had closed for some amount of time," she admitted. "If I could just do it over again, I probably would have taken a leave of absence for a few months and tried to collect unemployment."
Vitale, however, was not the only one facing a mental health plunge during this time. A February brief published by the Kaiser Family Foundation, a non-profit organization aimed at discussing national health issues, revealed that the average number of adults reporting symptoms of anxiety or depression was three times higher last January than during the first half of 2019, the year before COVID-19 hit the U.S.
This comes as little surprise. With the increase of social isolation, job loss and the widespread fear of the virus itself, it is understandable that mental wellness would begin to falter. For some, however, the experience of the pandemic has been so distressing that it may even be classified as trauma, according to Dr. Emily Goldmann, a Clinical Associate Professor in the Department of Epidemiology at NYU's School of Global Public Health.
"It's a potentially traumatic experience, and it's an example of a disaster—of a mass trauma—where people's livelihoods are disrupted, social networks are disrupted, it's impacting a lot of people at the same time, it's associated with death and injury—meaning more hospitalization," Dr. Goldmann explained on a phone call in November.
Although she continues to live with high levels of anxiety, Vitale has learned to find comfort in her work again. She says there is a sort of inertia involved with bread baking that keeps her steady enough to push through each day. On one day, she and her team will scale flour and build pre-ferments or sourdough starters. The next day, the ingredients need to be mixed into the pillowy dough that will eventually rise to be baked into crusty baguettes or delicately sour pullman loaves. They are always running on a three-day cycle and therefore never truly finished.
Of course, Vitale has gone through this rhythm surrounded by others who are also under the strain of the pandemic and the daily hours of the bakery. In this, she has found solidarity and a growing love as they work together through the early hours, downsized shaping tables and erratic menu.
"It actually was a very bonding experience because you're just doing this relatively mundane thing at the end of the fucking world together," she said.
Besides, according to Vitale, She Wolf's situation could be worse, even with the shrunken loaves and lack of staff meals. Ask a line cook, healthcare worker or a taxi driver about their experiences and the conversations would be much different and potentially more upsetting.
"There's definitely that feeling of, like, 'oh, we used to all eat off the same plate and taste each other's wine' and whatever shit like that," she said. This kind of sharing became off-limits with the pandemic, but Vitale stressed, as disheartening as it was, it was not something to dwell on. "It's completely trivial in the face of all of the other sad effects of this thing happening to humanity."
Looking back, Vitale wishes she asked for more help when she needed it. While her mental health has improved and she is more self-assured as a bakery manager, asking for more support when she was struggling may have lightened the weight of her situation. Instead, she was hindered by the fear that people would perceive her struggles as an incapability to do her job.
This fear, to her, pointed to a much larger issue within the food world: its toxicity.
"The food industry is, broadly speaking, not a good place to work," she said. "And it needs to be a good place to work."
It's not exactly a secret that the food industry has an abundance of issues, especially in the realm of mental health. With the long, irregular hours spent working at break-neck speed, workers like chefs, dishwashers and servers are exposed to particularly high levels of stress. According to a 2017 study by Unilever Food Solutions, 74 percent of chefs are sleep deprived to the point of exhaustion and 63 percent reported feeling depressed. In 2015, the Substance Abuse and Mental Health Service Administration reported that, among 19 industries, the restaurant industry was at the highest risk of illicit drug use and third highest for heavy alcohol consumption.
Unsurprisingly, the pandemic offered little relief. Many restaurant workers were forced to grapple with the loss of their jobs or wages, and unemployment benefits were stalled as the government struggled to keep up with applications. Another layer of stress added to the already brimming crisis.
But Vitale is cautiously hopeful that the food industry is finally beginning to recognize its pitfalls. In recent years, many long-time restaurant workers have founded organizations that aim to promote mental wellness and support within the food industry. Patrick Mulvaney, a chef who has worked in the industry since the '80s, started the I Got Your Back program in 2018. He has mentioned in past interviews that he hopes to destigmatize mental illness and underscore mutual support between hospitality workers through peer-to-peer counseling. Two other versed restaurateurs, Steve Palmer and Mickey Bakst, launched the group Ben's Friends in 2016 to offer a support system for those in the food and beverage industry struggling with substance abuse and addiction.
Considering the toll that the pandemic has taken on workers in the food industry, it seems that the goals of Mulvaney, Palmer and Bakst are becoming more commonplace. Some restaurants, like Maypop in New Orleans, are beginning to make use of capped working hours and wellness initiatives while others, such as those within the Olympia Provisions restaurant group, have encouraged activities like yoga, rock climbing and even spa treatments to make their workers feel better cared for.
For Vitale, this progress is a reminder of what attracted her to the food industry in the first place: the acknowledgment of the inner workings of the food industry, like the agricultural process and the workers who spend their days bent over stoves or bussing tables.
"I am definitely feeling a renewed call to exist in the food world in an intentional way," she said. "I think that there are really a lot of people that are feeling really, really motivated to focus on our food chain and on our environment and on the welfare of workers and all of that. I'm trying to be hopeful that a lot of little fires have been started."